Despite having a natural lifestyle, we still occasionally have a focusing issue with our children. These tips have worked for us (and our friends) to keep our kids medication-free.
Sometimes, it's as simple as adding a nourishing, vitamin-rich diet and supplements to help kids (and adults) to focus and think well. We recognize that some individuals need medications. We also never, ever recommend ending a medication regimen without consulting your physician.
Resources for Brain Health
Barrie Silberberg, a mother who honed her skills using the GFCF Diet with her son, who was diagnosed with ASD, gives you everything you need to know to put the diet into action with your child, including:
What the GFCF Diet is and why it's so effective
How to start the diet
Where and how to buy GFCF foods
How to avoid cross-contamination
How to understand labels on packaging
How to make this diet work day-to-day
The Feingold Diet is a form of elimination diet where foods containing certain harmful additives are removed and replaced with similar foods that are free of those additives. When starting the diet, certain foods and non-food items containing an aspirin-like chemical called salicylate are also eliminated, and later tested for tolerance.
Happily, there is a huge selection of foods of every kind, including snacks, desserts, convenience foods and mixes that are acceptable on the Feingold Diet.
First, the diet is used as a diagnostic tool to determine if any of the eliminated items are triggering some or all of the problems you are seeing. When successful, it is continued as a treatment, and can also be combined with any other necessary medical treatments.
3. Eating for Autism by dietitian Elizabeth Strickland
What your child eats has a major impact on his brain and body function. Eating for Autism is the first book to explain how an autism, Asperger's, PDD-NOS, or ADHD condition can effectively be treated through diet. Eating for Autism presents a realistic 10-step plan to change your child's diet, starting with essential foods and supplements and moving to more advanced therapies like the Gluten-Free Casein-Free diet. Parents who have followed Strickland's revolutionary plan have reported great improvements in their child's condition, from his mood, sleeping patterns, learning abilities, and behavior to his response to other treatment approaches. Complete with 75 balanced, kid-friendly recipes, and advice on overcoming sensory and feeding skill problems, Eating for Autism is an essential resource to help a child reach his full potential.
What would it be like to really savor your food? Instead of grabbing a quick snack on your way out the door or eating just to calm down at the end of a stressful day, isn't it about time you let yourself truly appreciate a satisfying, nourishing meal?
In our modern society, weight concerns, obesity rates, and obsession with appearance have changed the way we look at food—and not necessarily for the better. If you have ever snacked when you weren't hungry, have used guilt as a guide for your eating habits, or have cut calories even when you felt hungry, you have experienced "mindless" eating firsthand. This mindless approach to food is dangerous, and can have serious health and emotional consequences. But if you've been mindlessly eating all your life, it can be difficult to make a change. When it comes down to it, you must take a whole new approach to eating—but where do you begin? Practicing mindful eating habits may be just the thing to make that important change. In fact, it might just be the answer you've been searching for all these years.
The breakthrough approaches in Eating Mindfully, by Susan Albers, use mindfulness-based psychological practices to take charge of cravings so they can eat when they are hungry and stop when they feel full. Ten years after the release of the first edition, this book continues to help thousands of readers change the way they approach mealtime. So what's changed? For starters, there is a new section that focuses on the "occasional mindless eater." This second edition emphasizes that mindful eating isn't only for those on a diet or for those who have severely problematic eating habits—it's for everyone. In addition, this new edition features over 50 new tips for eating mindfully. Inside, you will learn how to be more aware of what you eat, get to know your fullness and hunger cues, and how to savor and appreciate every bite. You will also learn how mindlessness corrupts the way you eat, and how it can manifest in a number of different eating problems. No matter where you are in your journey toward mindful eating, this book will be an invaluable resource, and you will gain insight into how mindfulness can provide you with the skills needed to control the way you eat—leading to a healthier, happier life.
Fun ideas to help your kids take some breaks so they can work hard when they need to focus.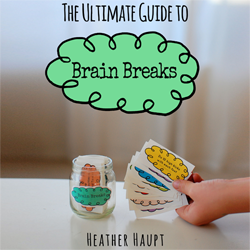 We specifically use a combination of essential oils, dietary supplements, a natural whole foods diet, cod liver oil, plenty of fresh air, and exercise to help us perform at our best.

You might also like: