We are pretty excited about TouchMath Second Grade!

This is an innovative math program that serves all learning styles: visual , auditory, digital (writers), and kinesthetic learners. I am so very impressed that they have a division for students with learning differences!
TouchMath 2nd Grade consists of 4 modules. Modules A, B, and C are primarily addition and subtraction. Module D teaches units on time, money, measurement, data, and geometry! Each unit has a progress monitoring chart with each lesson listed. This is a great planning tool!
At the beginning of each module and unit are lists and explanations of Content Overview, State Standards, Objectives, Prerequisites, Vocabulary, Materials, and Instructional Strategies. I love having all this information at my fingertips to help me teach math!
Kate (almost 6) completed her assignments, though she is never as excited about math time as Tori and I are. She did love the computer games (Tutor Software) and playing with the manipulatives during her free time though!
I think this is an example of how the different learning styles prefer different subjects and/or teaching styles. Kate is very visual, verbal, and artistic. Allowed the freedom to explore, she used the manipulatives in her own special way during her free time.
Tori (just turning 7) just loved it! She loved the touching, visual appeal, working with the Base Ten counters and Touch numerals, number cards, the Flipcards…and how it all applied to her math worksheets (which is the real curriculum).
Tori is an auditory/visual, right-brained learner. Being my compliant and cautious child, she completed her assignments during math time but rarely spent her free time exploring the manipulatives on her own.
Why is this math program different?
The student must touch the number card or numeral at certain points that count out its value. They memorize this, but it's more than just blind memorizing. They really internalize this concept and comprehend what the number means.
Once that touch counting is learned, then addition and subtraction is that much easier to master. You touch count up for adding and down for subtracting. Multiplication is grouping and you have the Base Ten counters to further show the values.
TouchMath appeals to all learners with its multi-sensory approach!
visual (the students sees the cards, numerals, counters)
auditory (the student speaks the equation aloud and count up or down and repeat equation with the answer)
digital (the student reads the equations and write or draw the answers)
kinesthetic (the student touches the numerals and/or counts the Base Ten dots)
Why we like TouchMath…
It is traditional in that it has all the necessary mathematical concepts covered in their scope and sequence to give my kids a good maths foundation.
It is fun and colorful and engaging for all types of learners.
It has a good balance of repetition and practice (a spiral approach) with teaching to mastery. My girls didn't get bored with doing many, many pages on one concept before moving on to the next lesson.
As soon as we opened the box, Kate started with her Touch Points on the Number Cards. She just naturally knew what to do!
These are perforated and can be used like flashcards, but we left it as a poster.
Tori practices the TouchMath Tutor with her Number Cards for help. The girls loved the US geography base for the games. They both especially love the Base Ten Place Values game.
Tori practices addition with her Number cards to help her remember where to touch and count. She touches the numbers with the point of her pencil.
Tori has her Base Ten and Number Cards to help with this page (addition and subtraction).
Kate draws in her Base Ten dots on her page to show the math work (addition and subtraction).
Even Alex loves the Touch Numerals and Base Ten! We'll start teaching him with it soon! He's only almost 3. He used the Base Ten as counters and matched them up to the numbers like the cards!
Tori touches and says this subtraction equation on the Flipcard. It's multi-level learning. She remembers since she must say it and touch it.
The 2nd grade curriculum consists of 4 module downloads at $59.95 each.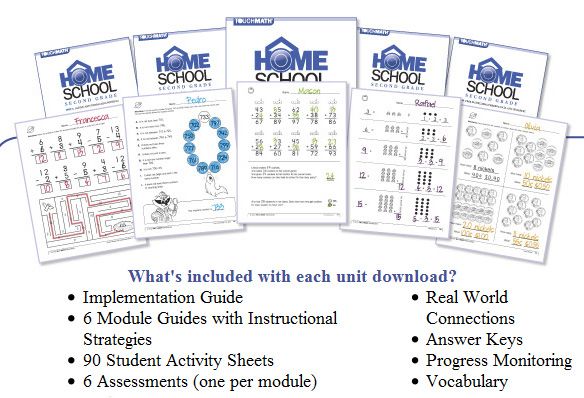 Optional manipulatives and extras:
Number Cards are $24 for a 10-pack.
The Flipcard packs are $19 each and there are 12 sets that correspond to 2nd grade.
Touch Numerals with Base Ten are $99.
TouchMath Tutor is $99.
My kids absolutely love the Touch Numerals and use them with all their math assignments now, and even make up games with them on their own. Check out this post where we're using the money pages. We're very excited about how this innovative program helps us succeed with math.


You might also like: