Liz and I reviewed The Presidential Game.

She won. Every time. And she did a little dance. ugh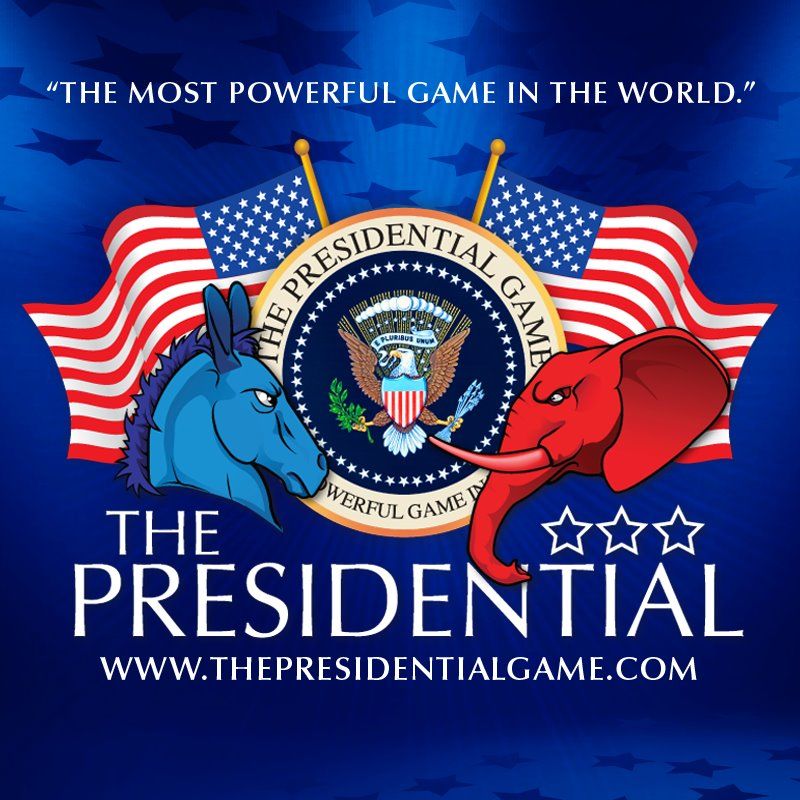 Contents:
1 20″ x 30″ GAME Board
1 Score Pad
3 Blue Dice
3 Red Dice
80 Politics Cards
40 "Write-Your-Own" Politics Cards
150 Republican Votes (red chips)
150 Democrat Votes (blue chips)
1 Electoral WebMap™ Calculator Access Code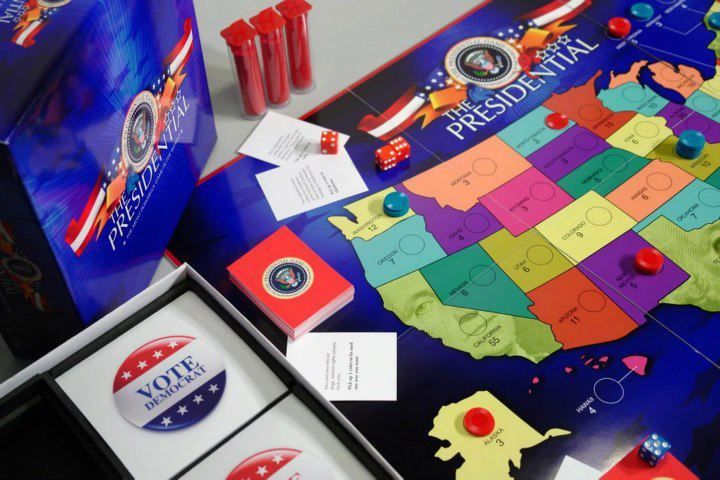 Liz is almost 13 and this game is a perfect supplement to our history program. She really loved the feel of this game. She was quite competitive and loved beating me. Over and over again. She likes power.
We weren't sure how to play the chips at first, but got the hang of that after we ran out before the game was over! Games can take a while, so be prepared. Chips equal 1 vote. Votes are determined by dice rolls.
Republicans have red chips and Democrats have blue chips. Whoever has more votes has a chip on the game board and the iPad app (WebMap) helps keep track for you (if you get confused like I did). I love how realistic the game is with campaigning and fundraising and the politics cards with real world situations.
It's really fun campaigning and fundraising and seeing the results of that on the nation (game board). It helped me understand elections. I've never really paid that much attention to it all. You can only fundraise in California, New York, Florida, and Texas. You draw a Politics Card after fundraising. The dice determines how many votes you can count in your choice of states – whether you fundraise or campaign. So, if a player rolls a "10", they can distribute 10 votes, with at least half in the fundraising state. When campaigning, players choose any three states and roll 3 die. So if you roll a "6", "5", and "3", you can opt to allocate those votes to your three states.
The Politics Cards are interesting. I had to explain most of it to her. It allowed for much interesting conversation. Lobbying, personal behavior, poor choices, dumb luck all are in those cards. And you can write your own. Some cards state "play immediately" and others can be saved for later in the game. Liz liked saving hers and going in for the kill!
We had lots of great conversation about politics and history and the fallen state of mankind. Liz found some new topics to research in her fascination for history and biographies. This game really helps Liz see the connections in our government – with companies, organizations, citizens, religion, and all the factors that play into it. I think it's a great tool to understand our nation's election rules.
We loved the WebMap app. It was so easy to just click on the state for blue, red, or neutral to resemble electoral college voting. We didn't even use the score pads. (sorry the screen is all fingerprinted!)
We really enjoyed this game. I can't wait until the littles are older and can play with us so we can have teams! I think this could be fun with adults and older kids. I need to plan a game night.
The Presidential Game is $35. For kids 11+. Because it's got adult issues on the politics cards. So you can discuss the negative ads at election time. I wish I'd had this game when I was in 11th grade U.S. History!
Here's a little video that shows you the high quality of this well-made game:


You might also like: