We reviewed the Moving Beyond the Page science and literature units Lifecycles Age 7-9: Concept 3 – Cycles: Unit 1 and Charlotte's Web Age 7-9: Concept 3 – Cycles: Unit 2.
I love that everything I need is included. I was surprised when a big box came with all this:
ages 7-9 – unit 3_1 – Science Unit – Lifecycles by Kim A. Howe, M.S.
What Is a Life Cycle? by Bobby Kalman
Who Eats What? by Patricia Lauber, ill. Holly Keller
Green Earth Butterfly Kit
ages 7-9 – unit 3_2 – LA – Charlotte's Web (/Online) by Kim A. Howe, M.S.
Charlotte's Web by E.B. White, ill. Garth Williams
We were already underway with caterpillars in our butterfly habitat and we already had big sister's copy of Charlotte's Web. The girls were thrilled to each have their own copies to read together. I loved it.
We learned plot with this flow chart.
I was impressed with the girls doing so much writing so well!
The girls worked on spelling words. I think vocabulary words would have been more helpful. I made my own list after this wasn't super successful.
Kate did not really like the spelling sheets.
Tori really loathed the spelling assignments.
They loved this graphic organizer in the spider shape!
They wrote what we learned in our reading on the "legs."
Tori enjoyed this writing assignment.
Here are the extra reading books we chose at the library. Kate loved this unit. She is an animal lover!
Kate loved reading the books for the unit.
We found three lovely and very different spiders in our front hedge. None like Charlotte though!
Look at this guy's stripes!
I think this one is the same species as the one above, but a lighter color.
This is a wolf spider because of his eyes.
We even got a fun new pet that we love to watch every day: a leopard frog tadpole! His name is Sméagol. He's just beginning to grow back legs.
Here are our five chrysalids with one starting to jiggle.
Our first butterfly!
Butterflies produce meconium that looks like blood after they come out of the chrysalids.
They like oranges!
Proud butterfly mama Kate!
This one acted almost drunk on the sugar water nectar! He didn't want to fly away!
Final shot before the 5th butterfly took off.
In the Life Cycles lesson book, there are 9 lessons and a final project. The first page is a How to Use for Parents with a suggested schedule.
Love the vocabulary list and projects! We discussed living things and life cycles. We compared different animals and insects. And there was even a lesson on plants life cycles.
I had these fun magnets that we used for plants. We had done a garden study and we have a vegetable garden, so we've been working on that as a family and it was great hands-on learning! (There are some great notebooking pages in the lesson book though!)
Alex really loved Jack's Garden. Dad read it to him. I read it to him. The girls read it to him. A favorite!
We're studying animals in our regular science program and this just ties right in. I love that. We got to create a new species as a project too! It offered conditions, questions, and info on life cycle and food chains to help us with our creations. A rubric is included for parents to evaluate the project. A quiz is also available to assess the unit.
The girls completed a butterfly book about all they learned.
They drew the life cycle of butterflies.
Kate read me the book about butterflies. She loves reading!
I made this bulletin board for our unit
vocabulary page in the Life cycles unit
we discussed senses in a barn
Kate reads her instructions to write about barn sensory experiences. When I asked how they would feel in a barn, Kate said "nervous" and Tori said "happy." So funny!
The girls write down our discussion and draws the barn from Charlotte's Web
I love the online component for Charlotte's Web. I can print the pages needed for our assignments. They offer written and drawing pages and I let the girls choose (was surprised by their choices!). If members have great lesson ideas, we can submit those to the IdeaShare forum!
The headings at the top are Intro, Activities, and Conclusion. It's a well-organized lesson plan. There are four activities with multiple printable choices depending on the child's writing abilities. You can click on Table of Contents to download or save printables. There are seven lessons and a final project. Suggested times are included.
We've never really used unit studies because I find it difficult to work into our regular schedule, but these are so well-written and fun, I definitely want to make room to do more! Summer is perfect for units!
The Charlotte's Web online package is $20.92, with novel included. The unit lesson book alone is $12.93.
The Life Cycles package $45.92, including all materials needed. The unit lesson book alone is $16.99.
Click the images below to check out samples in literature, science, and social studies!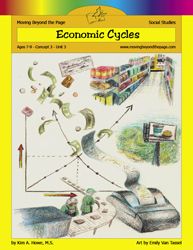 You might also like: