I love Denise from Logic of English. I met her at Allume last year and learned about her amazing English/Language Arts program. She put amazing research into it! Since I met her, Logic of English has grown leaps and bounds!

I am so happy to share our review of Foundations A. I love this description: Complete Phonics, Reading, Handwriting & Spelling. It is quite complete.
I received the Foundations Reusable Resources Set ($88) as well as the hardcover teacher's manual ($38) and student workbook ($18).
Foundations A is recommended for ages 4-7, so Kindergarten-1st graders is the target audience.
Alex is still a bit young and my girls are a bit beyond this right now.
Even though Alex is only three, I thought it was a better progression for him to understand the basics of the English language than what we used with the girls the last couple years. He's been wanting to learn to read lately. He did love sounding our the letters!
Tori needs a bit of review, so she listens in on many of the lessons and then does her own language work with Essentials.
We all love Doodling Dragons! It's a fun ABC resource.
Foundations A comes in manuscript or cursive. We chose cursive since it's more natural. I wish I had started this with the girls!
Liz did the first lesson with her brother, Alex. He's feeling her breath and voice. Somehow this reminded me of Anne Sullivan and Helen Keller.
They practiced the different sounds and mouth movements that accompany them. Alex liked learning about the air and tongue placement. They held their noses and tried to say letters. They made silly faces. (Liz loved it too!)
Is /b/ Voiced or unvoiced?
Is /n/ Nasal or not?
What is the difference between /th/ and /TH/?
We also have the Phonograms App. Tori really liked reviewing with this. Alex was indifferent to another app. But he's younger and it just wasn't fun to him.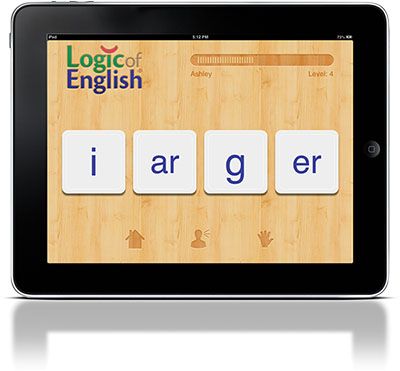 Liz used the phonetics flashcards with Tori and the app for review time.
After just a few review sessions, Tori knows all the sounds that all the letters make and examples! I am so pleased.
Alex's favorite component by far is the dry erase board! He loved practicing his shapes and lines (strokes)!
Look at that tongue of concentration!
We talked about the stroke and felt the sandpaper flashcard and traced it with fingers a few times. I drew the first one on the board and Alex traced it. Then he tried to draw a few of his own.
A favorite activity was connecting the sounds with magnets. The book suggested Legos, but these were handier for us. I used one for each letter/sound and we practiced bringing them closer together and then combining them to make the works. We did this a few times until he "got" it.
We did several sessions a week but didn't get as far as I would like in the book since Alex's attention span is so short. He cooperates for only some of it. He doesn't like much of the hands-on stuff like jumping when he hears a sound (I'm so surprised!). I think some of it is embarrassment that his sisters might see, but they're often on the other side of the school room. He's just uncooperative lately.
He liked setting up his first reader.
I'm trying to work at Alex's pace, and when he says he's done, we're done. No point in pushing when he's only three since I want him to love learning and not get discouraged.
Every 5th lesson is a review and I do see progress!
Alex is too young for the phonogram game cards, but Tori, Kate, and I played and it was ok. I think Tori liked it best.
Here's the price list of the program. They also have package deals.
Foundations A Teacher's Manual – PDF or print (224 pages) $38.00
Foundations A Cursive or Manuscript Workbook – PDF or print Family License (230 pages) $18.00
Basic Phonogram Flash Cards $16.20
Cursive or Manuscript Tactile Cards $25.20
Student Whiteboard $10.80
The Rhythm of Handwriting Cursive or Manuscript Chart $9.00
Phonograms App $2.99
Phonogram Game Cards $10.00
Check out the other Logic of English reviews:


You might also like: