I have never placed the emphasis on spelling that I think schools do.
With today's technology for spell check and autofill, I just don't feel that spelling is the most important skill for me to focus on with teaching my children.
I don't like separating spelling from reading.
We read aloud and together and we complete vocabulary workbooks, but we don't do any kind of formal weekly spelling lists like I did in elementary school.
Phonics or Whole Language?
Does anyone remember this reading war in the 1980s?
Read some results from the reading wars.
Consider this: during WWII, American public schools—first in urban areas, then everywhere—were converted from phonetic ways of instruction (the ancient "alphabet system") to non-phonetic methods which involved memorizing whole word units, and lots of guessing for unfamiliar words. Whites had been learning to read at home for 300 years the old-fashioned way—matching spoken sounds to written letters—and white homes preserved this tool even when schools left it behind. There was a resource available to whites which hardly existed for blacks. During slavery, blacks had been forbidden to learn to read; as late as 1930 they averaged only three to four years of schooling. When teachers stopped teaching a phonetic system—known to work—blacks had no fallback position.

Weapons of Mass Instruction by John Taylor Gatto
I think many children missed out when teachers, curriculum advisors, education "experts" decided that memorizing sounds and words was more important than sounding out syllables and building words.
Phonics is a way of decoding written letters and spoken sounds. This approach to learning to read encourages children to decode words by sounds, rather than by recognising whole words. In the early years, teaching focuses on synthetic phonics, where words are broken up into the smallest units of sound (phonemes).
Chunking is a reading strategy that helps increase reading fluency by having readers look for chunks or patterns within a word that they recognize so they do not need to sound out every letter.
Whole language is an approach to learning that sees language as a whole entity, and writing, speaking, reading, and listening should be integrated when learned. In whole language, learning is built upon the real experiences and background knowledge of the learner.
The Orton-Gillingham Approach is a direct, explicit, multisensory, structured, sequential, diagnostic, and prescriptive way to teach literacy when reading, writing, and spelling. This approach is research-based, not evidence-based. This is an important distinction. Evidence based programs means that there have been studies (typically a randomized-controlled trial) that report on the program's effectiveness for the target population compared to another instructional approach.
I think kids need all the resources and tools in order to read fluently.
If left alone, most kids will learn to read on their own, without long winded techniques, textbooks, workbooks, spelling lists, standardized tests, or shaming from teachers, peers, siblings, and parents.
It's ridiculous to force a learning timeline on children to read by a certain age. Each child progresses at his or her own rate and will read when ready.
Spelling Tips and Tools
Visual meaning
Orthographic meaning is picturing something inside your head.
Most of us can picture in our minds a very detailed ice cream cone when we are asked.
What does yours look like? Mine is chocolate almond on a sugar cone. I can see it in my mind's eye, smell it, and imagine the flavor and feel in my mouth.
Some children and even adults struggle to visualize everyday objects or concepts. They don't even know this is a problem.
Most kids progress with visualization and eventually use this skill to take word pictures in their minds.
Logographic meaning is making sense of words and pictures. Maybe you remember when you made the connection between a written word and its meaning. I had trouble realizing that "immediately" wasn't pronounced emma-date-lee.
It's also important to realize that spacing represents words and punctuation separates phrases and sentences.
Spelling Curriculum, Games, and Toys
We love all the hands-on and Montessori tools and toys.
Backward or reverse chaining
By letter or by syllable for more advanced. We can highlight the hard parts.
We like to use colored pencils and make rainbow words.
Say the word. Then write the word, saying each letter.
Skip a line and say it and write it again — minus the last letter. Say the last letter, but don't write it.
Skip a line and say it and write it again — minus the last two letters. Say them, but don't write them.
Spelling trains
Read a word aloud and write it down.
Using the last letter in the first word, write another word beginning with that last letter. Continue the "spelling train" using the last letter of words.
Extend the lesson by making up harder "rules" like words have to have at least 5 letters or 3 syllables. We even do this out loud for ultimate difficulty.
Trace, copy, and recall
Make three columns on paper. Here's a nifty printable chart.
Say the word.
Trace the word.
Copy the word.
Recall or spell the word.
Counting Letters
To help visualize, hold up both hands and count out the letters in a word on fingers.
You're essentially assigning a letter to each finger and number.
L-E-A-R-N-I-N-G
1-2-3-4-5-6-7-8
L1 is my left pinky finger and G8 is my right middle finger.
We play this game by saying a word, counting out the letters, saying a number, then the letter that corresponds to that number. We do this until we know the word backwards and forwards.
Word Families
My girls liked working through printables with word blends, word ladders, and sight words.
Notebooking
Montessori Spelling Task Cards
Spelling You See
Spelling You See was a lot of busy work and we only used the first book. It was a different approach than we've ever seen.
Logic of English
Read our reviews:
Spelling Workout
My girls have completed the series of Spelling Workout vocabulary workbooks. My son is about halfway through. They're more than just spelling. Each lesson is 2-5 pages with puzzles, vocabulary, editing lessons, paragraph writing exercises, definitions, handwriting.
Love this instructional chart at the beginning of the workbook:
All About Learning
My middle girls completed AAR 1 and 2. My son completed pre, 1, and 2.
It's a good program and my kids loved it. I thought it was just tons of cutting and coloring, so much paper.
All About Spelling was an extension for All About Reading. It seemed like an awful lot of work and we didn't continue.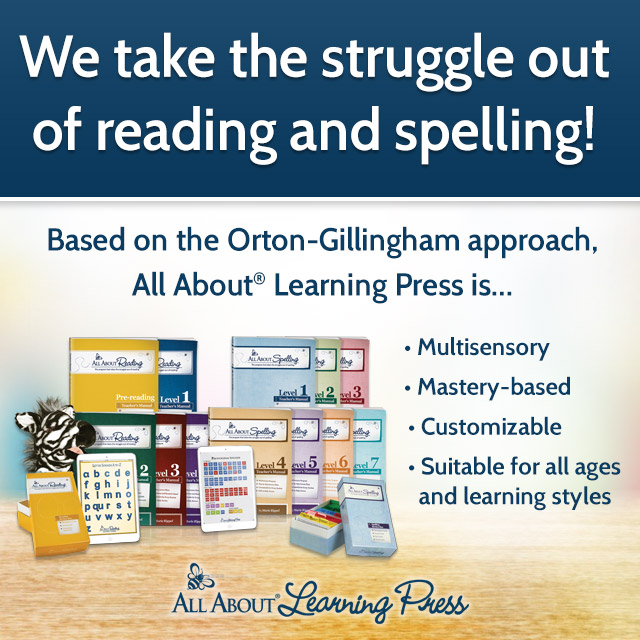 You might also like:

You might also like: