I jumped at the chance to review for Institute for Excellence in Writing since I've heard so many great things about it.
I requested both Teaching Writing with Structure and Style Set (TWSS) and Student Writing Intensive Level B Set (SWI) for myself and my daughter.
Since I was an English teacher, I kinda felt like a failure having to get a writing curriculum.
I had signed Liz up for SWI Level A a couple years ago at our local co-op…and we loathed it. Every Wednesday night was a battle trying to make sure she had her papers in order. She didn't understand her homework and couldn't answer any of my questions about the assignments. The mom who "taught" the class couldn't explain anything to my satisfaction either. She hadn't watched the TWSS.
I knew somebody had to be missing something.
So I watched the TWSS DVDs and it all became crystal clear. That co-op had obviously not encouraged anyone to view the TWSS.
A few of my favorite takeaways:
"This is a skills-based program, not a product-based program, not a formula for perfection. Wrestling with words gives more writing power." Andrew Pudewa in TWSS

"You can't correct everything all at once." Yes. Thank you. I need to remember this! And remind my husband. And focus on mini-lessons as needed.

He "will not try to challenge my comma doctrine." lol!
Also, I like all the comparisons of teaching writing with Suzuki music method. Made good sense.
So, the DVDs show why he teaches writing this way. I do not disagree with it. It's just very different than the way I do it. I respect Andrew Pudewa as a teacher of writing. He's good at what he does. My kids understand. The End.
How we used the student program:
My daughter watched the IEW B DVDs and followed the lesson format. I was in the room most of the time, listening in to how he taught the lessons. She enjoyed it so much, she did almost a lesson a day! After the DVDs, she continued to do the lessons on her own. I expect to see even more improvement across the curriculum with her writing.
The SWI has 15 lessons with lesson plans, handouts, and reinforcement materials (found in binder). The extra CD has an overview of TWSS. The lessons are easy to follow and Liz could do them without my interference. She showed me her completed essays. All was good. She was learning. She was writing.
I like the outline and schedule examples in TWSS. One of the issues with our first time around was solved for us: it doesn't have to be perfect and she can be creative.
She knows how to summarize and she likes to embellish and the dress-ups, sentence openers, decorations, and sentence styles are good solid teaching. She knows the "proper" names for most grammar, but she likes the fun way it's taught in SWI.
I like the "wall charts" and we downloaded this free app to help remind us. And yay for no printables.
~IEW Writing Tools – Institute for Excellence in Writing~
My daughter loved Mr. Pudewa's humor and giggled through most of the watching.
The checklists are helpful to remind students to include everything in the assignments.
I'm happy that she was so agreeable and liked the assignments. I think the DVDs really helped with a different perspective.
How I used the TWSS program:
I've taught writing, grammar, and literature for many years in many different school environments. This program doesn't disagree with any of the methods I've always used. Some lessons it simplifies and some topics it focuses more on with different terminology or format.
There are 9 units in the program (in a cool flow chart!):
note making and outlines
summarizing from notes
narrative
reference and library reports
writing from pictures (we love doing this!)
(library reports)
creative
essay
critiques
Structure is rigid; style is fluid.
Per the TWSS recommendation, I moved the girls' desks away from the wall so I could use the little whiteboard and teach more effectively. I seldom lecture the kids, but it's good minilesson demonstrations.
So, I tested some of the theories with a writing lesson. My middle girls are young. I don't encourage formal writing until high school.
Our first keyword lesson on the platypus.
This is for the topic sentence:
A fun little printable I found somewhere with topic and supporting sentences to sort.
The girls sorted the sentences in order.
More keywords for the whole paragraph:
The girls rewrote the sentences from their keywords.
The girls wrote their first essays!
I am so proud. They really like this method!
Look at proud Tori with her first essay!
The girls presented their essays to Dad and practiced public speaking!
I like the suggestion in TWSS of using keywords for public speaking.
Student Writing Intensive Level B (Grades 6-8) is $109
Contains
• Structure & Style Overview DVD for parents and teachers
• Four instructional DVDs for the student
• Three-ring binder with dividers
• Student packet containing scope & sequence, teacher's notes, and student handouts for one student (about 100 pages in all)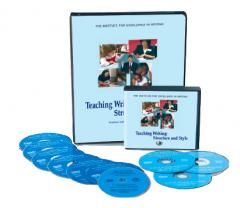 Teaching Writing: Structure & Style DVD Seminar with Seminar Workbook for levels A, B, and C is

$169
Contains
10 DVDs:

Six DVDs with instruction on the nine structural models and multiple stylistic techniques (10 hours total viewing time—may be watched all at once, or viewed one disc at a time throughout the school year)
Tips & Tricks for Teaching Through the Nine Units, a two hour supplemental DVD refresher course
Three DVDs of sample student workshops at three different grade levels to help you with that first lesson

The TWSS Seminar Workbook, which serves as the syllabus for the seminar and contains charts, word lists, sample lesson plans, and more!
Check out these free downloads!


You might also like: