With Christmas coming up quickly, I see lots of posts on social media about gift guides, what my friends' and acquaintances' kids want for Christmas, how they're trying to afford all the expectations of the holidays, and so many other holiday issues.
I used to be one of those moms, struggling not to dig us too much further into debt while providing a magical, "curated perfection," commercial Christmas for our four kids.
I recently saw this on someone's social media:
My daughter told me that she has figured out who Santa was: "It's you, Mom. I know that because we never get what we ask for."
Ouch.
There's a problem with that attitude in children. And the problem isn't with the lie of Santa Claus. It's with allowing children to believe they're entitled.
Yes, this is a first world problem. I won't allow my kids to grow into entitled teens or adults.
I refuse to accept that attitude of entitlement in my children.
I must examine my attitude and entitlement issues before I can start to teach my kids. I need to model the attitude I want them to have.
Eliminating entitlement starts with me.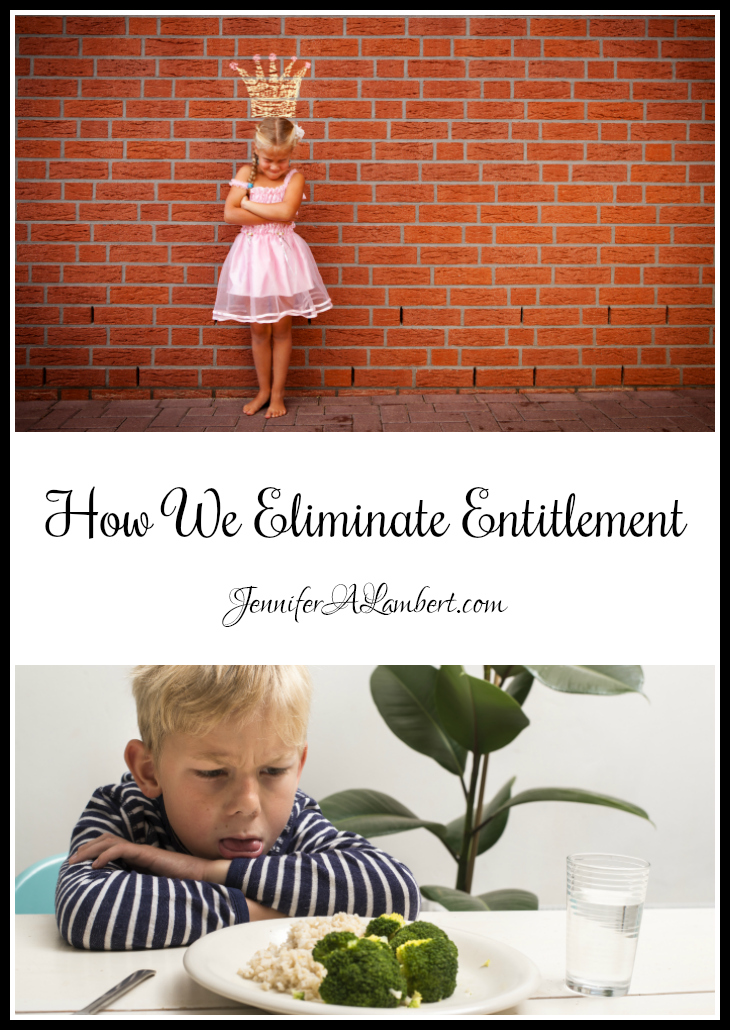 How we eliminate entitlement:
Education
I want my kids to realize how fortunate they are.
I actively educate them about how the world functions. They have to work to achieve success – financially, personally, and spiritually. It won't just be handed to them.
When it is age-appropriate, I teach them about privilege. My kids are white, healthy, abled. I don't want them to be ashamed, but I want them to be humble.
We don't have any needs go unmet. We have more than enough clothing and food. We have a safe, comfortable house filled with furniture, electronics, modern conveniences – luxuries we often take for granted – compared to so many others in the world, or even around the corner.
We travel often to see how the rest of the world lives. We watch documentaries about history and culture. We read, read, read about history, other cultures, and peoples around the world.
My kids store away bits of knowledge from our travel experiences and lessons about the world and I refer to them over the years as reminders and we look at pictures to help us remember.
I encourage my kids to be self-motivated. We don't use punishments or rewards.
I want them to understand compassion. We practice the art of apology.
I teach kindness and self-control. We learn about diversity.
These lessons help them to be good citizens of the world.
Temptation
Lead us not into temptation.
It's sometimes just easier not to know.
We don't often fall into the comparison trap.
We don't watch commercials. We didn't have a TV for years and now we seldom watch live shows. We use Netflix and Amazon
for streaming, among some other newer options. That eliminates a lot of temptation through marketing and advertisements.
We don't subscribe to emails or magazines or catalogs that shove ads and deals in our faces.
We don't go shopping. We go to grocery stores to get food and when we need something – and that's about it. We don't do shopping as entertainment so we often just don't know what's available or popular and that makes it easier. It's getting more difficult not to see the social media ads or influencer posts about items and services.
I shop online (with Rakuten (formerly eBates) for cash back!) or occasionally at the Base eXchange if we need a specific item. I use Amazon
for almost everything else. Shipping site to store is my new favorite thing. I can just zoom in and out and it's often free.
My kids get birthday money from grandparents and can earn money from extra chores or pet sitting and baby sitting.
This solves so much of the entitlement issue for all of us.
Coveting
Thou shalt not covet.
I try to lead by example.
I used to feel like I needed everything my blog mentors recommended on their sites. Those blogger moms are not my friends. They're trying to make money by recommending products. I don't know them and they don't know me nor have my best interests at heart. And they got most of that stuff for free to review and peddle to the masses.
After a couple years and too many "educational toys" and homeschool curricula collecting dust in bins and on shelves, I purged a lot and set better priorities for our home and homeschool. I learned who I am and what was necessary for my kids to learn well and it became easier.
My kids are homeschooled and we don't participate in a co-op or many classes outside our home, so they often don't know what other kids have or what's very popular. We constantly reevaluate this. I don't want my kids to feel the need to get the newest gadget, but I don't want them to have nothing fun.
We stopped participating in play groups when my younger kids were preschool age because several moms had very material attitudes that I didn't appreciate. When the playgroup rotated to their houses, I dreaded walking into their IKEA and Pottery Barn paradise where my kids' eyes danced at the magazine-photo-shoot-ready playrooms with an overwhelming number of toys in a specially kid-dedicated room. Children ruled those homes.
It made me feel worthless and less-than, a bad parent that I couldn't afford those things nor did we have the space for it. And I didn't really want it and all the stress that went with it. And we move every few years, so how could we cope?
When these moms started discussing preschool options for their children, I felt even worse. They turned on me and scoffed about homeschooling. They actually said out loud in front of all the kids they couldn't wait for the break from their kids when they could throw them into a preschool several mornings per week so they could have freedom. To do what? I wondered.
Even in private Christian preschool, kids talk about toys, clothes, parties, and TV shows! I would have preferred uniforms, even in 4K when my eldest daughter attended, so I didn't have to talk about fashion with my daughter at that time. I'm glad she only went that one year.
I want to protect my kids from this attitude of coveting what others have. If it means less of a social outlet, so be it.
We just have different priorities.
Minimalism
When something new comes in, something old goes out.
Except books. We have 8ish bookshelves bursting with homeschool material, literature, living books, and favorite reads. (We have purged some lower quality books or outgrown baby books to make room for better ones.)
We periodically do sweeps of the closets and homeschool room and toys to donate or sell – items that are outgrown or no longer used.
My kids are growing and developing their own tastes and preferences. And I couldn't be prouder of their choices. They are people with opinions.
Liz's handmedowns aren't so much to Tori's tastes, but Akantha usually loves them. So, I honor my sweet Tori by purchasing her clothes that are more to her liking. Shoes aren't often a good thing to hand down, so we usually purchase new ones so my kids have healthy, pain-free feet as they grow.
I'm generous with purchasing books that we love or aren't available at our libraries, especially eBooks for the Kindle app on their iPad
minis (my parents bought the kids those). eBooks don't take up any space and work well with our traveling lifestyle!
I feel the need to address why we own iPads since I was called a hypocrite for owning an unnecessary luxury electronic item such as an iPad.

The iPads were gifts from my parents. We graciously accept them and keep them since my children rarely see them. We're a military family and have lived far away from all family for over 10 years. The iPads come in handy when we move every 2-4 years and when we live out of suitcases in temporary housing for months on end – without our household goods or school curricula. We have apps to learn languages and review math drills. They each have an email account to keep in touch with friends and family. The games are fun.
As the kids grow, we clear out the toys they played with when they were younger. We clean out the dress-up bin for items that are too small or torn beyond repair. As the kids grow into tweens and teens, we have different toys – Legos, robotics, arts and crafts, science experiments.
I try to keep clutter to a minimum.
If toys and clothing are too overwhelming to put away, there are too many and they should be sorted and purged. I do have regrets from over-purging when my eldest was young. We just didn't have the storage to rotate and I wish we could have done that rather than selling and donating some of it.
Priorities
It's all about where our focus is.
We prefer experiences over stuff.
I want my children to grow up to be contented adults.
I don't want them only striving to work for the next toy – like the latest technological gadget or boat or whatever.
I want them to live full, engaged lives with healthy relationships.
We focus on courtesy, faith, loving and giving to others, learning, and being together.
By being so fortunate, we should seek to give to those in need rather than store up riches for ourselves.
Pickiness
A lot of people probably don't think this has anything to do with entitlement.
A child turning up his or her nose at a plate of food has everything to do with entitlement (unless there are medical, sensory, or neurodivergent issues.)
I don't make short order meals for my family. We eat meals together every single day.
I do everything in my power not to contribute to the pickiness.
I try to introduce new foods to my children to expand their palate and knowledge. We travel frequently and I want my kids to be aware of what to expect from different cuisines. I don't want them to be ignorant eaters. I refuse to allow them to smother foods in ketchup or Ranch dressing. It's just rude.
I offer colorful and tasty nourishment to my kids three times per day, every day! We eat lots of different ethnic cuisines and fun flavors and combinations.
It takes about seven exposures for a child (or adult!) to make an actual determination of like or dislike.
My children must taste a new food. Often, they love it immediately. Other times, they express, "No, thank you."
I know what my children prefer (and it's not chicken nuggets and French fries!). They have opinions, preferences. They are people too. I respect them.
I only offer something new once or maybe twice a week.
Sometimes, I will make a meal that I know a particular child doesn't like so I make an exception to my rule to prepare leftovers or a plainer version they would rather enjoy. I'm not mean. I know everyone has preferences and I will make concessions.
For example, I'll make cream cheese-stuffed chicken wrapped in bacon, but I make it three ways: plain chicken wrapped in bacon, and cheese-stuffed with and without bell peppers. It's technically the same meal, but everyone ends up happy.
I often make several different side dishes so everyone eats a good vegetable. I know my son likes cauliflower and I love carrots and everyone likes broccoli, so I steam a veggie blend for everyone to pick out what they prefer. When we have salad, I provide a minibar of raw vegetables and fruits for everyone to get what they like.
We mostly drink water. We occasionally have juice or natural soda for special occasions and weekly pizza night.
Teens seem to go through phases where they think they want to be vegetarian or vegan. They can pick their foods from the choices at table and make their own proteins. It doesn't usually last long.
Relationships
I feel that a sense of entitlement also often spills over into relationships.
We've had too many run-ins this last year with parents whose children can do no wrong. These families offer no apologies and revert blame onto anyone else. They're bullies.
I've had to confront parents whose kids have physically assaulted mine, lied about it, bragged about it, and experienced no consequences. So, these kids have learned they can get away with horrendous behavior.
And these parents gloss over it:
"Kids will be kids."
"They're not responsible for emotional outbursts since they're just kids."
"Boys will be boys."
No.
A human over the age of 12 is certainly responsible for his actions and should know right from wrong. This is about the age that abstract thinking engages. But a human mind isn't fully developed until age 25.
My kids are not my equals.
They must be respectful in their words and attitudes.
We talk to our kids and model appropriate behavior, including apologizing and forgiving. We teach courtesy, that dying art.
We teach respect when we go out, tipping wait staff generously and being polite to everyone.
Compassion is very important.
Because all relationships matter.
We're certainly not perfect.
My kids occasionally whine or complain and I know I do too when I don't get my way. We're all growing and learning together.
I gently guide my kids to what is right. I teach them what is wrong.
I encourage them to be responsible and make amends for mistakes, apologizing and seeking forgiveness when necessary.
Because we're raising servant leaders for a better world.
Resources:

You might also like: