We really enjoyed reviewing Global Art: Activities, Projects, and Inventions from Around the World from Gryphon House.
We love this award-winning art book!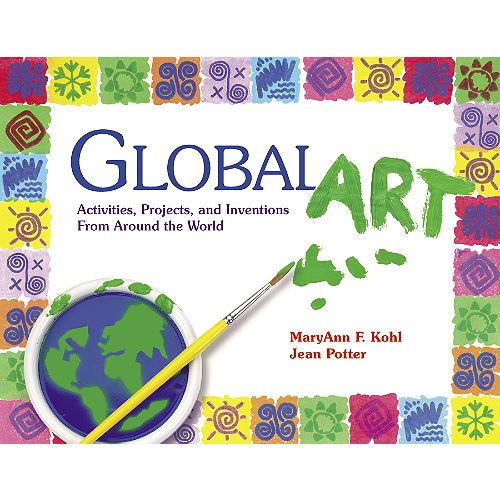 From the Publisher: An ideal way to start children on an exciting, creative adventure towards global understanding! The fun, easy-to-do art activities in Global Art use collage, painting, drawing, printing, construction and sculpture to help children appreciate people and cultures from all over the world. Each activity is explained in step-by-step detail an accompanied by geographic and cultural background to help you make the most of the teaching possibilities.
In Global Art, there are seven chapters that coincide with seven continents. I love how we can use this with our Montessori continent boxes! At the beginning of each chapter, there are suggested books and a little text about the continent. Great for unit studies.
I can also tie this in with our American history studies and literature! So many crafts to choose from! I've ordered beeswax…
Recommended for K-5. But I think it's great for all ages. Many are simple enough for toddlers or preschoolers and it holds the interest for my almost high schooler. I enjoy the art too and often do the projects along with my kids.
There are icons for experience level (1-3 stars) and techniques, as well as numbers (1-3) for level of preparation. I tell ya, prep is often the hindering factor for art time!
I let the kids choose the crafts they wanted to make. They loved having that freedom without mom hovering and planning!
They chose to paint rocks. of course. They'd been begging to do this for weeks! perfect. This is a craft from Egypt.
This was a two-part project and it was so hard to be patient, waiting for that first layer of paint to dry!
Tori follows directions so well.
Katie is a little more free range.
Alex was so super careful and did such a great job!
He really enjoyed doing art with his sisters!
Alex used way too much paint, but he did follow directions and it looked like a beetle! Tori's are perfect and Kate's are definitely unique. Even big sister Liz wanted in on the action and painted a stone.
Liz helped Alex make a necklace out of a paper plate. Super simple and fun! This is a central African craft.
He did color with crayons, but he didn't bear down very hard. I would recommend using markers and gluing jewels or sequins on it to look like a collar.
Buy Global Art for $16.95
I can't wait to incorporate more of these art projects into our studies this year!


You might also like: