We love trying new products that help our family in our journey to be more sustainable.
ECOlunchboxes are great traveling companions when we go hiking and exploring outdoors.
I can fill these bowls with fun colorful healthy goodies and we can share a salad and dip on a picnic wherever we go.
We have an extensive wood and creek in our backyard and often go to look at wildflowers and hunt mushrooms and herbs.
The kids love to play in the creek and look at crawdads.
It's such a blessing to know that while we enjoy nature, we can care for our Earth with reusable products instead of landfilling disposable products. It takes a little more thought to grab cloth napkins and real utensils with containers that have to be washed instead of items that are just thrown away.
I love that my kids are excited to help us do these things to protect our environment.
I love the versatility of these reusable bento bowls. We can use these bowls for snacks, salads, or anything and they're leak-proof!
The stainless bowls and silicone lids are dishwasher and oven safe! Not for use in the microwave!
Plastic-free and leak-proof, the Salad Kit is a three-piece container set ideal for packing a variety of foods and keeping them separate.
Seal Cup Jumbo, measuring 7 inches diameter by 3 inches tall. Capacity is 48 oz (6 cups). Great for the salad!
Seal Cup Mini, measuring 2 5/8 inches round by 1 1/2 inches tall. Capacity is 3 oz (1/3 cup). Ideal for dressings.
Seal Cup Solo, measuring 3 1/2 inches round by 1 3/4 inches tall. Capacity 7 oz (7/8 cup). Ideal for croutons, nuts and other toppings best kept separate prior to tossing your salad.
All Blue Water Bento collection lunch containers are designed FOR the ocean and BY the ocean. It's the beauty of our oceans that has inspired all our lunchbox designs. Sneak a peek at the behind-the-scenes design process.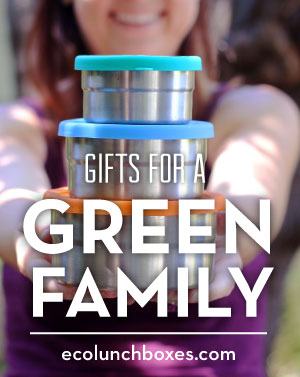 My kids are very concerned about making better choices for our leftover storage and picnic supplies. We are trying to limit or even eliminate our waste and do better not using single use plastics.
We have a whole wish list for ECOlunchboxes now, so everyone can have their own containers for lunches and snacks.
Please join the ECOlunchbox eco-friendly communities on Facebook, Pinterest, and Twitter.
What changes can we make to limit waste?
You might also like: