I have had the privilege and opportunity of teaching 3/4 of my kids how to read.
My eldest daughter attended daycare and preschool and they mostly took care of all the potty training and teaching her the alphabet and reading. I just reinforced what they taught at home. She caught on to reading very easily and quickly at the age of 4 and took off, devouring bigger and bigger books.
I never pushed my kids to read early. I let them go as their interest led them. They will always learn if I get out of the way and allow plenty of tools.
My middle two daughters are very different in personality and ability. The older one is very analytical and the younger one is a free spirit.
We recently learned about eye problems like convergence insufficiency and Victoria had a year of vision therapy which helped her in many ways.
My youngest, the boy, is five and already finishing up a reading curriculum. He loves early readers about animals and transportation. He prefers level 3 books already!
Learn about my goals and tips for reading readiness.
I hated reading until I was in junior high school, so I have no worries about having four lifelong lovers of books, even if they seem reluctant sometimes.
We have a house filled with books and we take library trips at least weekly. Reading is our go-to for learning. Our main curriculum is completely focused on literature and history.
We love leveled readers, Life of Fred, and All About Reading.
Sometimes, young readers need a little help with distractions. I don't want reading time to foster negative feelings of frustration or dread.
Teaching reading to young children is a challenge for me.
I was trained as a high school English teacher, so early childhood education got me a little anxious.
I relied on teaching books and reading programs to guide us through that process. I took cues from my kids with what worked and what wasn't as exciting or needed.
Our favorite reading curricula:
I used Teach Your Child to Read in 100 Easy Lessons with my first child. She also learned well with A Beka preK and K curricula. We never used A Beka again.
My younger three kids loved All About Reading. They completed it when there were only 3 levels. Then we just moved on. They were fluent.
My middle girls liked Logic of English. Reading our reviews of Logic of English here and here. It's very analytical and offers plenty of tools to use.
We've used computer programs and apps like Starfall, Funnix, Reading Kingdom, ABCMouse, Reading Eggs.
I read aloud to my kids every day, usually morning and evening. I encourage my girls to take turns reading aloud to me and to each other. In the evenings, we all read aloud from the Bible. My son has started reading his memory verse every morning. As with anything, practice makes perfect.
I encourage my kids to read leveled readers and science nature readers. High interest reading is key to lifelong learners and readers.
Sometimes we get stuck or distracted with reading and need a little help along the way.
Usually, it's distractions or daydreaming that make them lose their place in the text. Sometimes, it's just forgetting a sound or word.
I like these mini plastic pointers to follow each words as we read. They give fidgety fingers something to hold onto and stay on task by tapping each word as it's read.
The bigger reading guides show a whole paragraph in the view finder. This is helpful to practice or wean off the smaller reading strips.
There are many variations in the reading guides.
Full page reading guides might help tone down harsh fluorescent lighting or help tired eyes. The translucent pages also multitask with a light box or color blending at a window!
I highly recommend this book: Reading by the Colors: Overcoming Dyslexia and Other Reading Disabilities Through the Irlen Method by Helen Irlen
Strategies for Reading Comprehension
We find notebooking pages with story maps, KWL charts, graphic organizers, and verbal/written narration are helpful.
Using Prior Knowledge/Previewing
Predicting
Identifying the Main Idea and Summarizing
Questioning
Making Inferences
Visualizing
Alex has grown into quite the reader lately! We love All About Reading and it has helped me teach all the phonics rules and sight words for Alex to take off reading well on his own.
Alex really loves reading about dogs and cats lately.
He's proud of reading like his big sisters!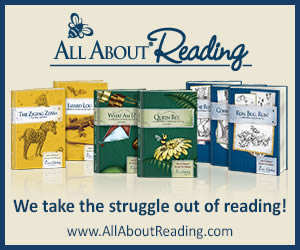 You might also like:

You might also like: