Homeschooling my children allows me great freedom to teach my children based on their interests. This would most likely be stifled in many schools.
I can teach to their specific learning styles. Often this means I must get out of my comfort zone. I taught high school and college English before God slammed that door shut. Preschool and elementary work intimidates me!
I can encourage my kids to explore their varied interests and help foster their love of learning. I choose to expose my kids to as many experiences and opportunities as I can so they have a wide variety of interests to explore. We study and discuss music, art, history, philosophy, religion, science, math, literature, entertainment…I certainly don't know what God may have in His mind for their future, but I want them to be prepared for anything! (Of course I shelter them from dangerous pursuits and I make sure their exposure to knowledge is age and ability appropriate.) Having so many spiritual gifts and different personalities at play makes our school time so very interesting and fun for me!
"Let children alone-…the education of habit is successful in so far as it enables the mother to let her children alone, not teasing them with perpetual commands and directions – a running fire of Do and Don't ; but letting them go their own way and grow, having first secured that they will go the right way and grow to fruitful purpose."
Left to her own devices, Liz (12 and a half) would just lie around and read. all. the. time. While I love it that she loves reading as much as I do, I must require her to narrate to me about her reading, at the very least. She doesn't much enjoy hands-on projects, perhaps because I don't so I try to give many options and provide opportunities and supplies to help with this.
Tori (just turned 7 yesterday!) loves numbers and activity. She enjoys arts and crafts, but she really loves copywork and handwriting practice. She gets easily frustrated over reading.
Kate (almost 6) would love nothing more than to do art and hands-on activities and never write anything. She does love reading though.
Alex is still so young at almost 3, but I can tell he's already very verbal. He so wants to read. He sees printed words everywhere and asks me what they say! Being our only boy, he loves movement and activity and mess.
So, I have primarily kinesthetic and verbal learners. Tori is our "odd man out" with her fascination with numbers. And I really love her for that. (She takes after Dad!)
So, how do I teach in a delight-directed style?
We often enjoy unit studies based on special interest in a certain subject. Other times, I extend our regular lessons and gather extra materials to further our studies on a much-loved topic. Delight school is a facet of Charlotte Mason and unschooling methods, and I do incorporate those into my teaching style, which is primarily classical. I need to gently guide the kids along in a unit study and make sure there's a product (essay, project, craft, even a coloring page for the littles!) at the end of studies. Otherwise, it feels like time wasted and there's nothing to show for it.
We use Tapestry of Grace for literature and history and we can afford to spend more than one week on a period that is especially fascinating. Apologia science has a great list of resources for their books that we can explore if a chapter is especially delightful. We all love notebooking with literature, history, and science. Again, the freedom of expression is important.
And, this can go the other way too. If we dislike a unit, we can choose to just skim over it, getting the bare facts. Eventually, we'll come back around to it in the future – we cycle through the curriculum several times in our schooling courses. Maybe we'll understand more or like better it the next time.
The child, though under supervision, should be left much to himself–both that he may go to work in his own way on the ideas that he receives, and also that he may be the more open to natural influences.

~Charlotte Mason
(Vol 1, Part V Lessons As Instruments Of Education, p.178)
Liz loves history and literature, so the dialectic level of Tapestry of Grace is a wonderful fit for her and allows us so much freedom to pick and choose materials for our weekly units of study.
Tori loves math and we utilize many options to keep her from getting bored. She loves Life of Fred and Singapore Math. We also play many math games and do math-booking (notebooking with math).
Kate loves art and Artistic Pursuits helps teach her valuable concepts while allowing her freedom to explore with various media. We also love Harmony Fine Arts curriculum and how it fits in with our history studies.
Alex loves his iPad…but he's more and more interested in tot school – tracing and counting and cutting and learning how the letters make sounds that make words. He loves to build and play with cars. I love learning about him and his likes and dislikes. He is so different from his sisters! He delights me!
The key to delight-led learning is to know your children and what their interests are and provide them opportunities and guidance to explore.
Join us at the Schoolhouse Review Crew blog to read others!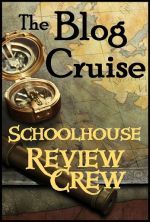 You might also like: