Alex is almost 3 years old! just a little over a month away…
Alex sorted candy hearts by color. Tori watched for a chance to eat some.
He told me here, rather matter of fact: "I won't color if you take a picture." Touché.
Behold the cuteness of this rascal. And that superb tracing before he cut it out!
Monkey pattern matching. He's sure smart and has no trouble with preschool work! He's not even three yet and I can barely keep him interested in most work that his sisters begged for more at this age. He certainly needs handwriting work. He love to cut and paste and he just started liking coloring pictures. I often can't tell if he's bored, frustrated, or just plain ornery.
groundhog shadow experiment. The girls and Alex loved this one. A flashlight + a groundhog cutout + a dark room=awesome.
playing his trucks app from Duck Duck Moose. every little boy's dream!
wowsers, the boy is SPELLING already with this Montessori Crossword app.
He loves it!
and….drumroll please!
Look who we have here!
Liz even dressed appropriately for the occasion!
Ziggy from All About Reading!
Alex is in love!
He's loving the program so far. He's only done a couple lessons from the pre-level, but we have a winner!
Sign up for the email newsletter and get free eBooks!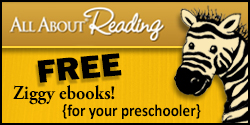 You might also like: