I want my children to understand North American history, and that includes the First Nations and Native Americans with their tragic displacement by white Europeans…and their discrimination even today.
As a white teacher, I have a responsibility to teach my children truth, even when, especially when, it might be uncomfortable.
My daughter is in college and recently read The Round House by Louise Erdrich in one of her classes. A white male student in her class asked if there really were still reservations. We must be diligent in the education of our children so they understand that there is more to Indigenous peoples than casinos and stereotypes in Western movies.
I think it's sad that the most exposure many white kids get to Native Peoples are stories about American Thanksgiving.
I was obsessed with Native American culture when I was little but there wasn't much I could find to learn about them. I watched a lot of westerns and Lone Ranger reruns. I think I loved the idea from watching Little House on the Prairie and Lone Ranger reruns. There was a huge surge of Westerns in film and TV. I would beg my mom to braid my hair and I had this woven skirt that was probably more South American in design, but I loved it. I would often play "cowboys and Indians" in the neighborhood and I always chose to be the Indian, whooping and hollering and tying Chris up and beating him with sticks.
It's embarrassing now to remember. I truly didn't know any better and I was a product of the media I consumed and the dominant racist white culture in which I was raised.
We have so many offensive phrases in our vocabulary that we maybe don't think about like we should.
From Kaitlin Curtice…A few phrases we should stop saying, especially around indigenous peoples:
"Let's powwow."
"Really, we're all Native Americans"
Oh, that's my spirit animal."
"Too many chiefs, not enough Indians"
"Off the reservation"
*Washington football team name* and others
"Find your tribe."
"On the warpath"
Every step towards healing, justice, and reconciliation matters.
To be an Indigenous parent today is about reversing the toxic narrative found in novels, speeches, magazines, and movies. Its about teaching our children indigenous truths rather than colonial lies. It's about restoring the truth of our kinship models. ~ Chief Lady Bird ~ The Intergenerational Resistance of Unapologetic Indigenous Parents
Many books on reading lists are told from a white perspective. While some are realistic and even respectful of Native history and culture, others are told from a Manifest Destiny perspective. I was rather horrified to see how many plots were about kidnapping white children. I want my children to understand the events that formed North America and how many of those events were and are harmful, even evil. I want them to see the whole picture and I refuse to glorify white history.
If we don't actively discuss racism and its evils with our children, how will it ever end?
While researching, I found this amazing resource: American Indians in Children's Literature (AICL), with book lists and answers to hard questions. Also, the First Nations website has a great book list.
We recently visited Fort Ancient and learned about the Ohio Natives and their history. We learned about how and where they lived and what foods they grew and how they prepared them.
We've visited Boonshoft and learned about Native houses and culture. They had a temporary exhibit, Explorers, which includes:
The American Plains, where they can discover the history and culture of Native American peoples through books and hands-on activities in a real tipi, examine artifacts, and discover the tactile difference between leather and rawhide.
Guests can stamp their passport in each area, and even trek to an area designed for our youngest explorers.
More than 200 artifacts from the American Plains were donated in 1926 by Katharine Talbott of Oakwood, after she received them from A. L. Corey, a healer and teacher of American Indian arts on the Western frontier during the turn of the century.
It's important we study all history and be honest.
I want to honor Native authors and illustrators here. I try to include as many books as I can find. If you know of a lovely Indigenous book for kids that's not on my list, let me know!
Several famous books are not on this list due to being problematic with racism and stereotypes.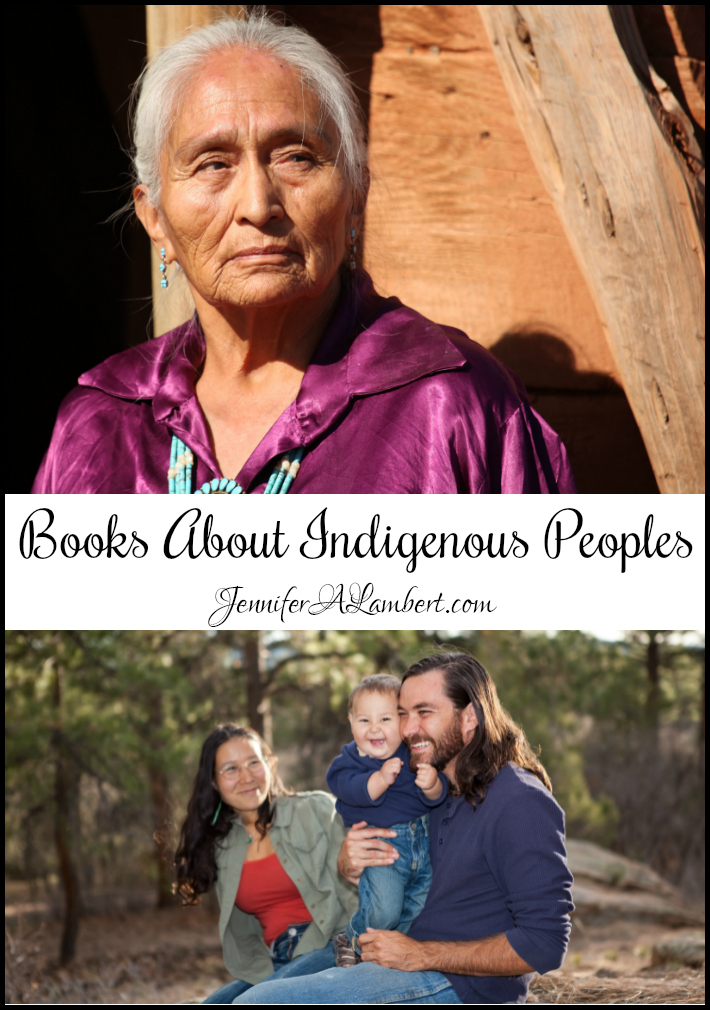 We must recognize and listen to Indigenous voices and learn from their history and culture.
SkySisters by Jan Bourdeau Waboose


Two Ojibway sisters set off across the frozen north country to see the SkySpirits' midnight dance. It isn't easy for the younger sister to be silent, but gradually she begins to treasure the stillness and the wonderful experiences it brings. After an exhilarating walk and patient waiting, the girls are rewarded by the arrival of the SkySpirits — the northern lights — dancing and shimmering in the night sky.
This powerful story, with its stunning illustrations, captures the chill of a northern night, the warmth of the family circle and the radiance of a child's wonder.
The Blue Roses by Linda Boyden


Every spring Rosalie, a Native American girl, and her grandfather sow tiny seeds that blossom into bright flowers. A red rosebush, planted under Rosalie's bedroom window when she was born, is later joined by pink and yellow ones "to make a sunset," Papa tells her. Rosalie asks for a blue bush, to represent the sky, but Papa explains that roses do not come in blue. When he dies the following winter, Rosalie's blue rosebush comes to her in her dreams as a symbol of love, memory, and transcendence.
The Good Luck Cat by Joy Harjo


Some cats are good luck. You pet them and good things happen. Woogie is one of those cats. But as Woogie gets into one mishap after another, everyone starts to worry. Can a good luck cat's good luck run out?
The first children's book from an acclaimed poet whose honors include the American Book Award and the William Carlos Williams Award
Celebrates the special relationship between a young girl and her cat. A modern Native American story from a member of the Muskogee-Creek tribe.
When I Was Eight by Christy Jordan-Fenton


Olemaun is eight and knows a lot of things. But she does not know how to read. Ignoring her father's warnings, she travels far from her Arctic home to the outsiders' school to learn. The nuns at the school call her Margaret. They cut off her long hair and force her to do menial chores, but she remains undaunted. Her tenacity draws the attention of a black-cloaked nun who tries to break her spirit at every turn. But the young girl is more determined than ever to learn how to read.
Fatty Legs by Christy Jordan-Fenton


Eight-year-old Margaret Pokiak has set her sights on learning to read, even though it means leaving her village in the high Arctic. Faced with unceasing pressure, her father finally agrees to let her make the five-day journey to attend school, but he warns Margaret of the terrors of residential schools. At school Margaret soon encounters the Raven, a black-cloaked nun with a hooked nose and bony fingers that resemble claws. She immediately dislikes the strong-willed young Margaret. Intending to humiliate her, the heartless Raven gives gray stockings to all the girls — all except Margaret, who gets red ones. In an instant Margaret is the laughingstock of the entire school. In the face of such cruelty, Margaret refuses to be intimidated and bravely gets rid of the stockings. Although a sympathetic nun stands up for Margaret, in the end it is this brave young girl who gives the Raven a lesson in the power of human dignity. Complemented by archival photos from Margaret Pokiak-Fenton's collection and striking artworks from Liz Amini-Holmes, this inspiring first-person account of a plucky girl's determination to confront her tormentor will linger with young readers.
Dragonfly Kites by Tomson Highway


Dragonfly Kites is the third book in Tomson Highway's magical Songs of the North Wind trilogy. Like Fox on the Ice and Caribou Song, it has a bilingual text, written in English and Cree. And once again Tomson Highway brilliantly evokes the very essence of childhood as he weaves a deceptively simple story about the power of the imagination.
Joe and Cody, two young Cree brothers, along with their parents and their little dog Ootsie, are spending the summer by one of the hundreds of lakes in northern Manitoba. Summer means a chance to explore the world and make friends with an array of creatures, But what Joe and Cody like doing best of all is flying dragonfly kites. They catch dragonflies and gently tie a length of thread around the middle of each dragonfly before letting it go. Off soar the dragonflies into the summer sky and off race the brothers and Ootsie too, chasing after their dragonfly kites through trees and meadows and down to the beach before watching them disappear into the night sky. But in their dreams, Joe and Cody soar through the skies with their kites until it's time to wake up.
Hiawatha and the Peacemaker by Robbie Robertson


Born of Mohawk and Cayuga descent, musical icon Robbie Robertson learned the story of Hiawatha and his spiritual guide, the Peacemaker, as part of the Iroquois oral tradition. Now he shares the same gift of storytelling with a new generation.
Hiawatha was a strong and articulate Mohawk who was chosen to translate the Peacemaker's message of unity for the five warring Iroquois nations during the 14th century. This message not only succeeded in uniting the tribes but also forever changed how the Iroquois governed themselves—a blueprint for democracy that would later inspire the authors of the U.S. Constitution.
Malian's Song (Vermont Folklife Center Children's Book Series) by Marge Bruchac


Young Malian lives contentedly with her parents and extended family in an Abenaki village near Montréal in the mid-eighteenth century. One night, Malian's life changes abruptly. Silently, her father carries her off to the woods, blanket and all, and orders her to run to their tribe's winter camp. Malian obeys, but not before she turns to watch her father slip back to the village through the trees. She never sees him again.
Malian's Song is based on the true story of a deliberate attack by English Major Robert Rogers on Québec's St. Francis Abenaki community in 1759. Malian's account of "Rogers's Raid," passed down through generations of Abenaki oral tradition, reveals that many Abenaki people survived the attack that destroyed their village, in direct contrast to Rogers' journal accounts. Jeanne Brink, a descendant of Malian living in Vermont, told the Vermont Folklife Center the little-known Abenaki version of the brutal attack. In this first Abenaki and English picture book, preeminent Abenaki historian Marge Bruchac and illustrator William Maughan portray Malian's story of a people's strength and fortitude in the face of unspeakable loss.
Thanks to the Animals by Allen Sockabasin


Little Zoo Sap and his family are moving from their summer home on the coast to their winter home in the deep woods. Unnoticed, the youngster tumbles off the end of the sled.
Alone, cold, and frightened, Zoo Sap cries, and his cries attract the forest animals. Beginning with beaver and ending with the great bald eagle, the animals rush to protect the baby and shelter him from the cold until his father returns for him.
New, expanded 10th-anniversary edition of this classic that has sold more than 30,000 copies. ·
New features include an author's note explaining the seasonal movement of the Passamaquoddy people; a pronunciation guide to the Passamaquoddy names of the animals in the story; and a QR code that will let readers link to the audio recording of Allen Sockabasin telling the story in the Passamaquoddy language.
A beguiling bedtime story and a profound expression of reverence for the natural world.
Chickadee by Louise Erdrich


Winner of the Scott O'Dell Award for Historical Fiction, Chickadee is the first novel of a new arc in the critically acclaimed Birchbark House series by New York Times bestselling author Louise Erdrich.
Twin brothers Chickadee and Makoons have done everything together since they were born—until the unthinkable happens and the brothers are separated.
Desperate to reunite, both Chickadee and his family must travel across new territories, forge unlikely friendships, and experience both unexpected moments of unbearable heartache as well as pure happiness. And through it all, Chickadee has the strength of his namesake, the chickadee, to carry him on.
Chickadee continues the story of one Ojibwe family's journey through one hundred years in America. School Library Journal, in a starred review, proclaimed, "Readers will be more than happy to welcome little Chickadee into their hearts."
The paperback edition includes additional material, such as an interview with the author and activities.
Jingle Dancer by Cynthia Leitich Smith


The affirming story of how a contemporary Native American girl turns to her family and community to help her dance find a voice.
Jenna loves the tradition of jingle dancing that has been shared by generations of women in her family, and she hopes to dance at the next powwow. But she has a problem—how will her dress sing if it has no jingles?
The cone-shaped jingles sewn to Grandma Wolfe's dress sing tink, tink, tink, tink.
Jenna's heart beats to the brum, brum, brum, brum of the powwow drum as she daydreams about the clinking song of her grandma's jingle dancing.
The warm, evocative watercolors of Cornelius Van Wright and Ying-Hwa Hu complement author Cynthia Leitich Smith's lyrical text in this picture book.
When the Shadbush Blooms by Carla Messinger


My grandparents' grandparents walked beside the same stream where I walk with my brother, and we can see what they saw.
Today when a Lenape Indian girl ventures to the stream to fish for shad, she knows that another girl did the same generations before. Through the cycle of the seasons, what is important has remained: being with family, knowing when berries are ripe for picking, listening to stories in a warm home.
Told by Traditional Sister and Contemporary Sister, each from her own time, this is a book about tradition and about change. Then and now are not so very different when the shadbush blooms.
Giving Thanks: A Native American Good Morning Message by Chief Jake Swamp


Giving Thanks is a special children's version of the Thanksgiving Address, a message of gratitude that originated with the Native people of upstate New York and Canada and that is still spoken at ceremonial gatherings held by the Iroquois, or Six Nations.
Grandmother's Dreamcatcher by Becky Ray McCain


While Kimmy's parents look for a house close to Daddy's job, Kimmy stays with her Chippewa grandmother. The bad dreams she has had still bother her. But with her grandmother's help, she learns about dreamcatchers.
Dreamcatcher by Audrey Osofsky


In the land of the Ojibway a baby sleeps protected from bad dreams, as the life of the tribe goes on around him.
I Am Not a Number by Jenny Kay Dupuis


When Irene is removed from her First Nations family to live in a residential school, she is confused, frightened and terribly homesick. She tries to remember who she is and where she came from despite being told to do otherwise. When she goes home for summer holidays, her parents decide never to send her away again, but where will she hide and what will happen when her parents disobey the law?
Buffalo Bird Girl: A Hidatsa Story by S. D. Nelson


This fascinating picture book biography tells the childhood story of Buffalo Bird Woman—a Hidatsa Indian born around 1839. Through her true story, readers learn what it was like to be part of this Native American community, which lived along the Missouri River in the Dakotas, a society that depended on agriculture for food and survival rather than hunting. Using original artwork and archival photographs, award-winning author/illustrator S. D. Nelson has captured the spirit of Buffalo Bird Girl and her lost way of life. The book includes a bibliography and an index, as well as an author's note and timeline of events.
We love all the books by S.D. Nelson!

The True Story of Sitting Bull from multi-award-winning author Joseph Bruchac.
Anxious to be given a name as strong and brave as that of his father, a proud Lakota Sioux grows into manhood, acting with careful deliberation, determination, and bravery, which eventually earned him his proud new name: Sitting Bull.
We love all the books by Joseph Bruchac!
Arrow over the Door by Joseph Bruchac


For young Samuel Russell, the summer of 1777 is a time of fear. The British Army is approaching, and the Indians in the area seem ready to attack. To Stands Straight, a young Abenaki Indian scouting for King George, Americans are dangerous enemies who threaten his family and home. When Stands Straight's party enters the Quaker Meetinghouse where Samuel worships, the two boys share an encounter that neither will ever forget. Told in alternating viewpoints, The Arrow over the Door is based on a true story.
How the Stars Fell into the Sky: A Navajo Legend by Jerrie Oughton


This retelling of a Navajo folktale explains how First Woman tried to write the laws of the land using stars in the sky, only to be thwarted by the trickster Coyote.
We Sang You Home by Richard Van Camp


In this sweet and lyrical board book from the creators of the bestselling Little You, gentle rhythmic text captures the wonder new parents feel as they welcome baby into the world. A celebration of the bond between parent and child, this is the perfect song to share with your little ones.
Internationally renowned storyteller and bestselling author Richard Van Camp teams up with award-winning illustrator Julie Flett for a second time to create a stunning board book for babies and toddlers.
Welcome Song for Baby by Richard Van Camp


From renowned First Nations storyteller Richard Van Camp comes a lyrical lullaby for newborns. Complemented with stunning photographs, this evocative board book is perfectly suited as a first book for every baby.
Little You by Richard Van Camp


Richard Van Camp, internationally renowned storyteller and bestselling author of the hugely successful Welcome Song for Baby: A Lullaby for Newborns, has partnered with award-winning illustrator Julie Flett to create a tender board book for babies and toddlers that celebrates the potential of every child. With its delightful contemporary illustrations, Little You is perfect to be shared, read or sung to all the little people in your life—and the new little ones on the way!
Loving Me by Debby Slier


Whether it is a gentle kiss from mom, a hug from dad, a playful romp with an older brother, or reading with grandpa, babies and toddlers will discover the importance of family relationships in these charming photographs of Native American families. Loving Me features multi-generational family members loving and caring for a child, as they tenderly show their babies and young children how much they are loved in this book of love and diversity.
My Heart Fills with Happiness by Monique Gray Smith


The sun on your face. The smell of warm bannock baking in the oven. Holding the hand of someone you love. What fills your heart with happiness? This beautiful board book, with illustrations from celebrated artist Julie Flett, serves as a reminder for little ones and adults alike to reflect on and cherish the moments in life that bring us joy.
International speaker and award-winning author Monique Gray Smith wrote My Heart Fills with Happiness to support the wellness of Indigenous children and families, and to encourage young children to reflect on what makes them happy.
We All Count: A Book of Cree Numbers by Julie Flett


We All Count: A Book of Cree Numbers provides insight into contemporary Cree life. It teaches Cree numbers and provides pronunciation. This board book is wonderfully illustrated by Canadian based Cree/Metis artist Julie Flett. This book is important in enhancing learning of Cree numbers and making Cree culture accessible to young readers.
Sweetest Kulu by Celina Kalluk


A lyrical lullaby imbued with traditional Inuit beliefs, this bedtime poem written by internationally acclaimed Inuit throat singer Celina Kalluk describes the gifts bestowed upon a newborn baby by all the animals of the Arctic. Lyrically and lovingly written, this visually stunning book is infused with the Inuit values of love and respect for the land and its animal inhabitants.
Zoe and the Fawn by Catherine Jameson


An adventure begins when Zoe finds a lone fawn in the forest and helps search for its mother. But who could the mother be? A bunny? A fish? Join Zoe and her father as they encounter many woodland animals and learn their Native names along the way.
When We Were Alone by David Alexander Robertson


When a young girl helps tend to her grandmother's garden, she begins to notice things that make her curious. Why does her grandmother have long, braided hair and beautifully coloured clothing? Why does she speak another language and spend so much time with her family? As she asks her grandmother about these things, she is told about life in a residential school a long time ago, where all of these things were taken away. When We Were Alone is a story about a difficult time in history, and, ultimately, one of empowerment and strength.
Mama, Do You Love Me? by Barbara M. Joosse


Mama, do you love me? Yes I do Dear One. How much? In this universal story, a child tests the limits of independence and comfortingly learns that a parent's love is unconditional and everlasting. The story is made all the more captivating by its unusual Arctic setting. The lyrical text introduces young readers to a distinctively different culture, while at the same time showing that the special love that exists between parent and child transcends all boundaries of time and place. The story is beautifully complemented by graphically stunning illustrations that are filled with such exciting animals as whales, wolves, puffins, and sled dogs, and a carefully researched glossary provides additional information on Arctic life. This tender and reassuring book is one that both parents and children will turn to again and again.
Thunder Boy Jr. by Sherman Alexie


Thunder Boy Jr. is named after his dad, but he wants a name that's all his own. Just because people call his dad Big Thunder doesn't mean he wants to be Little Thunder. He wants a name that celebrates something cool he's done, like Touch the Clouds, Not Afraid of Ten Thousand Teeth, or Full of Wonder.
But just when Thunder Boy Jr. thinks all hope is lost, he and his dad pick the perfect name…a name that is sure to light up the sky.
Hungry Johnny by Cheryl Kay Minnema


"I like to eat, eat, eat," choruses young Johnny as he watches Grandma at work in the kitchen. Wild rice, fried potatoes, fruit salad, frosted sweet rolls—what a feast! Johnny can hardly contain his excitement. In no time, he'll be digging in with everyone else, filling his belly with all this good food.
But wait. First there is the long drive to the community center. And then an even longer Ojibwe prayer. And then—well, young boys know to follow the rules: elders eat first, no matter how hungry the youngsters are. Johnny lingers with Grandma, worried that the tasty treats won't last. Seats at the tables fill and refill; platters are emptied and then replaced. Will it ever be their turn? And will there be enough?
As Johnny watches anxiously, Grandma gently teaches. By the time her friend Katherine arrives late to the gathering, Johnny knows just what to do, hunger pangs or no. He understands, just as Grandma does, that gratitude, patience, and respect are rewarded by a place at the table—and plenty to eat, eat, eat.
Powwow's Coming by Linda Boyden


Powwow's coming, hear the beat?
Powwow's coming, dancing feet.
Powwow's coming, hear the drum?
Powwow's coming, everyone!
Frustrated as a schoolteacher not being able to find good instructional materials on American Indians, Linda Boyden has bypassed the tired stereotype of Indians on horseback or hunting game and placed them in today's setting of a powwow.
Powwow's Coming provides children with a foundation for understanding and celebrating the enduring culture and heritage of American Indians. Boyden's exquisite cut-paper collage and engaging poem visually place readers within the scenes of a contemporary Native American community while offering a thoughtful look at powwows and their meanings to the Native participants.
Wild Berries by Julie Flett


Tch, tch, sh, sh, tup, tup.
Spend the day picking wild blueberries with Clarence and his grandmother. Meet ant, spider, and fox in a beautiful woodland landscape, the ancestral home of author and illustrator Julie Flett. This book is written in both English and Cree, in particular the n-dialect, also known as Swampy Cree from the Cumberland House area.
Kunu's Basket: A Story from Indian Island by Lee DeCora Francis


Kunu wants to make a pack basket, just like the other men on Indian Island.
But making the basket is difficult, and Kunu gets frustrated. He is ready to give up when his grandfather intervenes. This is not only a story about a family tradition, but also a story about learning to be patient and gentle with yourself.
A story about contemporary Native American life
This new paperback edition includes a new Author's Note about the traditions and importance of basketmaking in Penobscot Nation culture.
Wild Eggs: A Tale of Arctic Egg Collecting by Suzie Napayok-Short


Summer vacation becomes exciting when Akuluk goes egg hunting with her grandparents in the Arctic.
Akuluk is not excited about visiting her grandparents in Nunavut. She would rather head south for summer vacation, somewhere with roller coasters and cotton candy. There can't be much to do way up there, Akuluk figures. But as soon as she steps off the plane and sees all the exciting animals that the tundra has to offer, Akuluk forgets all about her dreams of going south. On her first full day in Nunavut, she can't wait to travel out on the land with her grandfather to hunt for wild eggs. As she learns about the different types of eggs, how to collect them properly, and the delicious meals that can be prepared with them, Akuluk knows that this is just the beginning of the exciting things she'll learn about the Arctic.
Water Walkers by Carol Ann Trembath


Water Walkers is the story of an Ojibway girl named Mai. Her family members are walking around Lake Superior to raise awareness about the harm that is being done to the Great Lakes. At first, Mai is told she is too little to go, but her grandmother says, "Even little people can do big things." As Mai walks along the lakeside path, she tries to find ways to help. Will the secret messages from the animals she sees on her journey show her how to help the water and Mother Earth? Will Mai prove that she is a clever coyote girl and can become a good water walker?
Water Walkers is a tribute to the many Native women and men who in today's world have courageously walked countless miles to draw attention to the condition of water. The message of this diverse, environmental book is to protect the water.
Included are: common core state standards, websites, cross-curriculum activities, a glossary of environmental terms, and ten ways for children to protect the Earth. With new original illustrations by Native American artist, David W. Craig.
Also, look at Stepping Stones: Protecting the Great Lakes.
The Water Walker by Joanne Robertson


The determined story of an Ojibwe grandmother (nokomis), Josephine Mandamin, and her great love for nibi (water). Nokomis walks to raise awareness of our need to protect nibi for future generations and for all life on the planet. She, along with other women, men and youth, has walked around all the Great Lakes from the four salt waters, or oceans, to Lake Superior. The walks are full of challenges, and by her example she challenges us all to take up our responsibility to protect our water, the giver of life, and to protect our planet for all generations.
Stolen Words by Melanie Florence


The story of the beautiful relationship between a little girl and her grandfather. When she asks her grandfather how to say something in his language, Cree, he admits that his language was stolen from him when he was a boy. The little girl then sets out to help her grandfather find his language again. This sensitive, beautifully illustrated picture book explores the intergenerational impact of Canada's residential school system, which separated young Indigenous children from their families.
Tasunka: A Lakota Horse Legend (English and Indic Edition) by Donald F. Montileaux


Curiosity leads a young warrior to track a new animal. It leads him far from home, but at last he finds a herd of the strange new creatures. They are horses that shimmer with colour and run swift as the wind. The Lakota capture and tame them, and the people grow rich and powerful. They become filled with pride. With their newfound strength they rule over the plains. Then the Great Spirit, who gave the gift of the horse, takes it away. Donald F. Montileaux retells the legend of Tasunka from the traditional stories of the Lakota people. Using the ledger-art style of his forefathers he adds colorful detail. His beautiful images enhance our understanding of the horse and its importance in Lakota culture.
Donald F. Montileaux has some other lovely books.
Rock and Roll Highway: The Robbie Robertson Story by Sebastian Robertson


Canadian guitarist and songwriter Robbie Robertson is known mainly for his central role in the musical group the Band. But how did he become one of Rolling Stone's top 100 guitarists of all time? Written by his son, Sebastian, this is the story of a rock-and-roll legend's journey through music, beginning when he was taught to play guitar at nine years old on a Native American reservation. Rock and Roll Highway is the story of a young person's passion, drive, and determination to follow his dream.
In the Footsteps of Crazy Horse by Joseph Marshall


Jimmy McClean is a Lakota boy—though you wouldn't guess it by his name: his father is part white and part Lakota, and his mother is Lakota. When he embarks on a journey with his grandfather, Nyles High Eagle, he learns more and more about his Lakota heritage—in particular, the story of Crazy Horse, one of the most important figures in Lakota and American history. Drawing references and inspiration from the oral stories of the Lakota tradition, celebrated author Joseph Marshall III juxtaposes the contemporary story of Jimmy with an insider's perspective on the life of Tasunke Witko, better known as Crazy Horse (c. 1840–1877). The book follows the heroic deeds of the Lakota leader who took up arms against the US federal government to fight against encroachments on the territories and way of life of the Lakota people, including leading a war party to victory at the Battle of the Little Bighorn. Along with Sitting Bull, Crazy Horse was the last of the Lakota to surrender his people to the US army. Through his grandfather's tales about the famous warrior, Jimmy learns more about his Lakota heritage and, ultimately, himself.
Beaver Steals Fire: A Salish Coyote Story by Confederated Salish and Kootenai Tribes


A long time ago, fire belonged only to the animals in the land above, not to those on the earth below. Curlew, keeper of the sky world, guarded fire and kept it from the earth. Coyote, however, devised a clever plan to steal fire, aided by Grizzly Bear, Wren, Snake, Frog, Eagle, and Beaver. These brave and resourceful animal beings raided the land above and risked all to steal fire from Curlew.
Beaver Steals Fire is an ancient and powerful tale springing from the hearts and experiences of the Salish people of Montana. Steeped in the rich and culturally vital storytelling tradition of the tribe, this tale teaches both respect for fire and awareness of its significance, themes particularly relevant today. This unforgettable version of the story is told by Salish elder Johnny Arlee and beautifully illustrated by tribal artist Sam Sandoval.
Also, check out Bull Trout's Gift: A Salish Story about the Value of Reciprocity.
Saltypie: A Choctaw Journey from Darkness into Light by Tim Tingle


Bee stings on the backside! That was just the beginning. Tim was about to enter a world of the past, with bullying boys, stones and Indian spirits of long ago. But they were real spirits, real stones, very real memories…
In this powerful family saga, author Tim Tingle tells the story of his family's move from Oklahoma Choctaw country to Pasadena, TX. Spanning 50 years, Saltypie describes the problems encountered by his Choctaw grandmother—from her orphan days at an Indian boarding school to hardships encountered in her new home on the Gulf Coast.
Tingle says, "Stories of modern Indian families rarely grace the printed page. Long before I began writing, I knew this story must be told." Seen through the innocent eyes of a young boy, Saltypie — a 2011 Skipping Stones honor book, WordCraft Circle 2012 Children's Literature Award-winner, and winner of the 2011 Paterson Prize for Books for Young People in the category of Grades 4-6 — is the story of one family's efforts to honor the past while struggling to gain a foothold in modern America.
Tim Tingle, a member of the Choctaw Nation of Oklahoma, is a sought-after storyteller for folklore festivals, library conferences, and schools across America. At the request of Choctaw Chief Pyle, Tim tells a story to the tribe every year before Pyle's State of the Nation Address at the Choctaw Labor Day Gathering. Tim's previous and often reprinted books from Cinco Puntos Press—Walking the Choctaw Road and Crossing Bok Chitto—received numerous awards, but what makes Tim the proudest is the recognition he receives from the American Indian communities.
Karen Clarkson, a Choctaw tribal member, is a self-taught artist who specializes in portraits of Native Americans. She did not start painting until after her children had left home; she has since been widely acclaimed as a Native American painter. She lives in San Leandro, California.
Tim Tingle has several children's and YA books.
The Apple Tree – A Modern Day Cherokee Story Told in English & Cherokee by Sandy Tharp-Thee


A Cherokee boy plants an apple seed, already seeing the apple tree it is meant to be. But the little apple tree is not so sure. Young and impatient, it begins to doubt its calling after apples fail to appear that first fall. How can the boy convince the tree to give the seasons the time to work their magic? The story is told in English with Cherokee translation, and includes a Cherokee syllabary.
Grandmother Spider Brings the Sun: A Cherokee Story by Geri Keams


After Possum and Buzzard fail in their attempts to steal a piece of the sun, Grandmother Spider succeeds in bringing light to the animals on her side of the world.
Soft Rain: A Story of the Cherokee Trail of Tears by Cornelia Cornelissen


It all begins when Soft Rain's teacher reads a letter stating that as of May 23, 1838, all Cherokee people are to leave their land and move to what many Cherokees called "the land of darkness". . .the west. Soft Rain is confident that her family will not have to move, because they have just planted corn for the next harvest but soon thereafter, soldiers arrive to take nine-year-old, Soft Rain, and her mother to walk the Trail of Tears, leaving the rest of her family behind.
Because Soft Rain knows some of the white man's language, she soon learns that they must travel across rivers, valleys, and mountains. On the journey, she is forced to eat the white man's food and sees many of her people die. Her courage and hope are restored when she is reunited with her father, a leader on the Trail, chosen to bring her people safely to their new land.
This book is one of my favorite read alouds.
If You Lived With The Cherokees by Peter Roop


This book tells what it was like to grow up in a Cherokee family in the Great Smoky Mountains about 200 years ago.
We like the illustrations.
The Legend of the Indian Paintbrush by Tomie dePaola


In spring, the hills and meadows of Texas and Wyoming are ablaze with the reds, oranges, and yellows of the Indian Paintbrush. How this striking plant received its name is told in an old Indian legend.
Many years ago, when the People traveled the Plains, a young Indian boy had a Dream-Vision in which it was revealed that one day he would create a painting that was as pure as the colors of the evening sky at sunset. The boy grew up to become the painter of the tribe, but although he found a pure white buckskin for a canvas and made paints from the brightest flowers and the reddest berries, he could not capture the sunset.
How the young Indian artist finally fulfills his Dream-Vision is lovingly told and illustrated by Tomie dePaola, in words and pictures that capture the spirit and beauty of this dramatic legend.
The Girl Who Loved Wild Horses by Paul Goble


"There was a girl in the village who loved horses… She led the horses to drink at the river. She spoke softly and they followed. People noticed that she understood horses in a special way."
And so begins the story of a young Native American girl devoted to the care of her tribe's horses. With simple text and brilliant illustrations. Paul Goble tells how she eventually becomes one of them to forever run free. Paul Goble has several lovely books.
Shin-chi's Canoe by Nicola I. Campbell


When they arrive at school, Shi-shi-etko reminds Shinchi, her six-year-old brother, that they can only use their English names and that they can't speak to each other. For Shinchi, life becomes an endless cycle of church mass, school, and work, punctuated by skimpy meals. He finds solace at the river, clutching a tiny cedar canoe, a gift from his father, and dreaming of the day when the salmon return to the river — a sign that it's almost time to return home. This poignant story about a devastating chapter in First Nations history is told at a child's level of understanding.
Indian Shoes by Cynthia L Smith


What do Indian shoes look like, anyway? Like beautiful beaded moccasins…or hightops with bright orange shoelaces?
Ray Halfmoon prefers hightops, but he gladly trades them for a nice pair of moccasins for his Grampa. After all, it's Grampa Halfmoon who's always there to help Ray get in and out of scrapes — like the time they are forced to get creative after a homemade haircut makes Ray's head look like a lawn-mowing accident.
This collection of interrelated stories is heartwarming and laugh-out-loud funny. Cynthia Leitich Smith writes with wit and candor about what it's like to grow up as a Seminole-Cherokee boy who is just as happy pounding the pavement in windy Chicago as rowing on a take in rural Oklahoma.
Son Who Returns by Gary Robinson


Fifteen-year-old Mark Centeno is of Chumash, Crow, Mexican and Filipino ancestry—he calls himself "four kinds of brown." When Mark goes to live with his Chumash grandmother on the reservation in central California, he discovers a rich world of family history and culture that he knows very little about. He also finds a pathway to understanding better a part of his own identity: powwow dancing. Riveted by the traditional dancers and feeling the magnetic pull of the drums, Mark begins the training and other preparations necessary for him to compete as a dancer in one of America's largest powwows.
Tallchief: America's Prima Ballerina by Maria Tallchief

Growing up on the Osage Indian reservation, Maria Tallchief was a gifted pianist and dancer. According to Osage tradition, women are not permitted to dance, but Maria's parents recognized her gifts and allowed her to break the rule. Then when Maria reached the age of twelve, her father told her it was time to choose between her two loves. Maria chose ballet. It was a decision that would change not only the course of her life, but the face of classical ballet in America.
Sweetgrass Basket by Marlene Carvell


In prose poetry and alternating voices, Marlene Carvell weaves a heartbreakingly beautiful story based on the real-life experiences of Native American children. Mattie and Sarah are two Mohawk sisters who are sent to an off-reservation school after the death of their mother. Subject to intimidation and corporal punishment, with little hope of contact with their father, the girls are taught menial tasks to prepare them for life as domestics. How Mattie and Sarah protect their culture, memories of their family life, and their love for each other makes for a powerful, unforgettable historical novel.
Super Indian by Arigon Starr

Hubert Logan was an ordinary Reservation boy until he ate tainted commodity cheese infused with Rezium, a secret government food enrichment additive. Known as Super Indian, Hubert fights evil forces who would overtake the Reservation's resources and population. Assisted by his trusty sidekicks Mega Bear and Diogi, they fight crime the way they know how — with strength, smarts and humor.
Dreaming in Indian: Contemporary Native American Voices by Lisa Charleyboy

Whether discussing the transformative power of art or music, the lasting trauma of residential schools, growing up poor, or achieving success, the contributors to this remarkable anthology all have something in common: a rich Native heritage that has informed who they are.
"All the Real Indians Died Off": And 20 Other Myths About Native Americans by Roxanne Dunbar-Ortiz

In this enlightening book, scholars and activists Roxanne Dunbar-Ortiz and Dina Gilio-Whitaker tackle a wide range of myths about Native American culture and history that have misinformed generations. Tracing how these ideas evolved, and drawing from history, the authors disrupt long-held and enduring myths such as:
"Columbus Discovered America"
"Thanksgiving Proves the Indians Welcomed Pilgrims"
"Indians Were Savage and Warlike"
"Europeans Brought Civilization to Backward Indians"
"The United States Did Not Have a Policy of Genocide"
"Sports Mascots Honor Native Americans"
"Most Indians Are on Government Welfare"
"Indian Casinos Make Them All Rich"
"Indians Are Naturally Predisposed to Alcohol"
Each chapter deftly shows how these myths are rooted in the fears and prejudice of European settlers and in the larger political agendas of a settler state aimed at acquiring Indigenous land and tied to narratives of erasure and disappearance. Accessibly written and revelatory, "All the Real Indians Died Off" challenges readers to rethink what they have been taught about Native Americans and history.
Moccasin Thunder: American Indian Stories for Today by Lori Marie Carlson


The ten stories that make up this collection are raw, original, and fresh. Although they are all about American Indians, they are as different from one another as they are from anything you've read before.
A supermarket checkout line, a rowboat on a freezing lake at dawn, a drunken dance in the gym, an ice hockey game on public-access TV. These are some of the backgrounds against which ten outstanding authors have created their memorable characters. Their work — both poignant and funny, sarcastic and serious — reminds us that the American Indian story is far from over — it's being written every day.
Night Flying Woman: An Ojibway Narrative by Ignatia Broker

With the art of a practiced storyteller, Ignatia Broker recounts the life of her great-great-grandmother, Night Flying Woman, who was born in the mid-19th century and lived during a chaotic time of enormous change, uprootings, and loss for the Minnesota Ojibwe. But this story also tells of her people's great strength and continuity.
The Absolutely True Diary of a Part-Time Indian by Sherman Alexie

Bestselling author Sherman Alexie tells the story of Junior, a budding cartoonist growing up on the Spokane Indian Reservation. Determined to take his future into his own hands, Junior leaves his troubled school on the rez to attend an all-white farm town high school where the only other Indian is the school mascot.
Heartbreaking, funny, and beautifully written, The Absolutely True Diary of a Part-Time Indian, which is based on the author's own experiences, coupled with poignant drawings by Ellen Forney that reflect the character's art, chronicles the contemporary adolescence of one Native American boy as he attempts to break away from the life he was destined to live.
With a foreword by Markus Zusak, interviews with Sherman Alexie and Ellen Forney, and four-color interior art throughout, this edition is perfect for fans and collectors alike.
Code Talker Stories by Laura Tohe

The Navajo language helped win World War II, and it lives on in this book, as the Code Talkers remember the war and reflect on the aftermath and the legacy they will leave behind. The veterans, able to speak to a daughter of one of their own in English and Navajo, truly shared from their hearts. They not only provided more battlefield details, but they also reveal how their war experiences affected themselves and the Navajo generations that followed.
My Name Is Not Easy by Debby Dahl Edwardson

My name is not easy. My name is hard like ocean ice grinding the shore…Luke knows his Iñupiaq name is full of sounds white people can't say. So he leaves it behind when he and his brothers are sent to boarding school hundreds of miles away from their Arctic village. At Sacred Heart School, students—Eskimo, Indian, White—line up on different sides of the cafeteria like there's some kind of war going on. Here, speaking Iñupiaq—or any native language—is forbidden. And Father Mullen, whose fury is like a force of nature, is ready to slap down those who disobey. Luke struggles to survive at Sacred Heart. But he's not the only one. There's smart-aleck Amiq, a daring leader— if he doesn't self-destruct; Chickie, blond and freckled, a different kind of outsider; and small, quiet Junior, noticing everything and writing it all down. They each have their own story to tell. But once their separate stories come together, things at Sacred Heart School—and the wider world—will never be the same.
If I Ever Get Out of Here by Eric Gansworth

Lewis "Shoe" Blake is used to the joys and difficulties of life on the Tuscarora Indian reservation in 1975: the joking, the Fireball games, the snow blowing through his roof. What he's not used to is white people being nice to him — people like George Haddonfield, whose family recently moved to town with the Air Force. As the boys connect through their mutual passion for music, especially the Beatles, Lewis has to lie more and more to hide the reality of his family's poverty from George. He also has to deal with the vicious Evan Reininger, who makes Lewis the special target of his wrath. But when everyone else is on Evan's side, how can he be defeated? And if George finds out the truth about Lewis's home — will he still be his friend?
Acclaimed adult author Eric Gansworth makes his YA debut with this wry and powerful novel about friendship, memory, and the joy of rock 'n' roll.
Walking on Earth and Touching the Sky: Poetry and Prose by Lakota Youth at Red Cloud Indian School by Timothy P. McLaughlin

This is an exceptional poetry collection written by Lakota students in the fifth, sixth, seventh, and eighth grades at Red Cloud Indian School on the Pine Ridge Indian Reservation in South Dakota. The historic school was founded in 1888 at the request of Chief Red Cloud of the Oglala Lakota. The poems enable readers to learn about the unique lives and heritage of students growing up in such distinctive circumstances and straddling cultures. The collection was compiled by a teacher at the school, working with school administrators, and contains never-before-published artworks by award-winning artist S. D. Nelson.
Native Writers: Voices of Power by Kim Sigafus

Learn about the life events and aspirations that shaped the voices of ten influential Native writers, whose novels, short stories and plays encompass the soul of Native life. Learn how these writers draw from personal experience to create situations and characters that are entertaining and poignant. Featured writers include:
Sherman Alexie (Spokane/Coeur d'Alene) Marilyn Dumont (Cree/Métis)
Joseph Boyden (Cree/Métis) Louise Erdrich (Ojibwa)
Joseph Bruchac (Abenaki) Tomson Highway (Cree)
Maria Campbell (Métis) N. Scott Momaday (Kiowa/Cherokee)
Nicola Campbell (Interior Salish of Nle7kepmx Tim Tingle (Choctaw)
[Thompson] and Nsilx [Okanagan]/Métis)
Many individuals portrayed in the Native Trailblazers series surmounted adversity and humble beginnings in their journey for personal success. The Trailblazer books feature positive role models for Native students while providing non-Native students with a view of Indigenous people today.
The Marrow Thieves by Cherie Dimaline

Humanity has nearly destroyed its world through global warming, but now an even greater evil lurks. The indigenous people of North America are being hunted and harvested for their bone marrow, which carries the key to recovering something the rest of the population has lost: the ability to dream. In this dark world, Frenchie and his companions struggle to survive as they make their way up north to the old lands. For now, survival means staying hidden—but what they don't know is that one of them holds the secret to defeating the marrow thieves.
Native American History for Kids: With 21 Activities by Karen Bush Gibson


As the first Americans, hundreds of indigenous bands and nations already lived in North America when European explorers first set out to conquer an inhabited land. This book captures the early history of these complex societies and their 500-year struggle to survive against all odds from war, displacement, broken treaties, and boarding schools. Not only a history of tribal nations, Native American History for Kids also includes profiles of famous Native Americans and their many contributions, from early leaders to superstar athlete Jim Thorpe, dancer Maria Tallchief, astronaut John Herrington, author Sherman Alexie, actor Wes Studi, and more.
Readers will also learn about Indian culture through hands-on activities, such as planting a Three Sisters garden (corn, squash, and beans), making beef jerky in a low-temperature oven, weaving a basket out of folded newspaper strips, deciphering a World War II Navajo Code Talker message, and playing Ball-and-Triangle, a game popular with Penobscot children. And before they are finished, readers will be inspired to know that the history of the Native American people is the history of all Americans.
Other Craft Books: More Than Moccasins: A Kid's Activity Guide to Traditional North American Indian Life and A Kid's Guide to Native American History: More than 50 Activities
The People Shall Continue by Simon J Ortiz
Told in the rhythms of traditional oral narrative, this powerful telling of the history of the Native/Indigenous peoples of North America recounts their story from Creation to the invasion and usurpation of Native lands. As more and more people arrived, The People saw that the new men did not respect the land. The People witnessed the destruction of their Nations and the enslavement of their people. The People fought hard, but eventually agreed to stop fighting and signed treaties.
Many things changed and became more difficult, but The People continued to farm and create crafts. They remembered and told their children, "You are Shawnee. You are Lakota. You are Pima. You Acoma. . . . You are all these Nations of the People." The People held onto their beliefs and customs and found solidarity with other oppressed people. And despite struggles against greed, destruction of their lands, and oppression, The People persisted.
Custer Died for Your Sins: An Indian Manifesto by Vine Deloria, Jr.
In his new preface to this paperback edition, the author observes, "The Indian world has changed so substantially since the first publication of this book that some things contained in it seem new again." Indeed, it seems that each generation of whites and Indians will have to read and reread Vine Deloria's Manifesto for some time to come, before we absorb his special, ironic Indian point of view and what he tells us, with a great deal of humor, about U.S. race relations, federal bureaucracies, Christian churches, and social scientists. This book continues to be required reading for all Americans, whatever their special interest.
The Lone Ranger and Tonto Fistfight in Heaven by Sherman Alexie
Vividly weaving memory, fantasy, and stark reality to paint a portrait of life in and around the Spokane Indian reservation, this book introduces some of Alexie's most beloved characters, including Thomas Builds-the-Fire, the storyteller who no one seems to listen to, and his compatriot, Victor, the sports hero who turned into a recovering alcoholic. Now with an updated introduction from Alexie, these twenty-four tales are narrated by characters raised on humiliation and government-issue cheese, and yet they are filled with passion and affection, myth and charm. Against a backdrop of addiction, car accidents, laughter, and basketball, Alexie depicts the distances between men and women, Indians and whites, reservation Indians and urban Indians, and, most poetically, modern Indians and the traditions of the past.
Killing the White Man's Indian: Reinventing Native Americans at the End of the Twentieth Century by Fergus M. Bordewich
In the face of a new lightly romanticized view of Native Americans, Killing the White Man's Indian bravely confronts the current myths and often contradictory realities of tribal life today. Following two centuries of broken treaties and virtual government extermination of the "savage redmen," Americans today have recast Native Americans into another, equally stereotyped role, that of eternal victims, politically powerless and weakened by poverty and alcoholism, yet whose spiritual ties with the natural world form our last, best hope of salvaging our natural environment and ennobling our souls.
The truth, however, is neither as grim , nor as blindly idealistic, as many would expect. The fact is that a virtual revolution is underway in Indian Country, an upheaval of epic proportions. For the first time in generations, Indians are shaping their own destinies, largely beyond the control of whites, reinventing Indian education and justice, exploiting the principle of tribal sovereignty in ways that empower tribal governments far beyond most American's imaginations. While new found power has enriched tribal life and prospects, and has made Native Americans fuller participants in the American dream, it has brought tribal governments into direct conflict with local economics and the federal government.
Based on three years of research on the Native American reservations, and written without a hidden conservative bias or politically correct agenda, Killing the White Man's Indian takes on Native American politics and policies today in all their contradictory–and controversial-guises."
Killers of the Flower Moon: The Osage Murders and the Birth of the FBI by David Grann
In the 1920s, the richest people per capita in the world were members of the Osage Indian nation in Oklahoma. After oil was discovered beneath their land, they rode in chauffeured automobiles, built mansions, and sent their children to study in Europe.
Then, one by one, the Osage began to be killed off. The family of an Osage woman, Mollie Burkhart, became a prime target. Her relatives were shot and poisoned. And it was just the beginning, as more and more members of the tribe began to die under mysterious circumstances.
In this last remnant of the Wild West—where oilmen like J. P. Getty made their fortunes and where desperadoes like Al Spencer, the "Phantom Terror," roamed—many of those who dared to investigate the killings were themselves murdered. As the death toll climbed to more than twenty-four, the FBI took up the case. It was one of the organization's first major homicide investigations and the bureau badly bungled the case. In desperation, the young director, J. Edgar Hoover, turned to a former Texas Ranger named Tom White to unravel the mystery. White put together an undercover team, including one of the only American Indian agents in the bureau. The agents infiltrated the region, struggling to adopt the latest techniques of detection. Together with the Osage they began to expose one of the most chilling conspiracies in American history.
In Killers of the Flower Moon, David Grann revisits a shocking series of crimes in which dozens of people were murdered in cold blood. Based on years of research and startling new evidence, the book is a masterpiece of narrative nonfiction, as each step in the investigation reveals a series of sinister secrets and reversals. But more than that, it is a searing indictment of the callousness and prejudice toward American Indians that allowed the murderers to operate with impunity for so long. Killers of the Flower Moon is utterly compelling, but also emotionally devastating.
This Day in North American Indian History: Events in the History of North America's Native Peoples by Phil Konstantin
This Day in North American Indian History is a one-of-a-kind, fun-to-read book covering over 5,000 years of North American Indian history, culture, and lore. Wide-ranging and in-depth, it lists over 5,000 important events involving the native peoples of North America in a unique day-by-day format.From the construction of Mayan temples in A.D. 715 to modern political activism and governmental legislation affecting native peoples-and everything in between-virtually every significant historical event in Indian history is listed. It also includes biographical sketches of prominent and lesser-known North American Indian leaders, chiefs, explorers, and their white counterparts, descriptions of migrations, the histories of tribes and ancient languages, and a list of the meanings of tribal names. Well-organized and comprehensive, the thousands of entries in This Day in North American Indian History weave an exciting and panoramic mosaic of North American Indian history. It is the most all-encompassing single-volume reference work on the subject available.
Exiled in the Land of the Free: Democracy, Indian Nations, and the U.S. Constitution by Lyons et al, Oren, Donald A. Grinde, Curtis Berkey
This groundbreaking work, which was written into the Congressional Record, has major implications for future relations between Indian tribes and the governments of the United States and other nations. It presents the strongest case ever made for Native American sovereignty.
1491: New Revelations of the Americas Before Columbus by Charles C. Mann
In this groundbreaking work of science, history, and archaeology, Charles C. Mann radically alters our understanding of the Americas before the arrival of Columbus in 1492.

Contrary to what so many Americans learn in school, the pre-Columbian Indians were not sparsely settled in a pristine wilderness; rather, there were huge numbers of Indians who actively molded and influenced the land around them. The astonishing Aztec capital of Tenochtitlan had running water and immaculately clean streets, and was larger than any contemporary European city. Mexican cultures created corn in a specialized breeding process that it has been called man's first feat of genetic engineering. Indeed, Indians were not living lightly on the land but were landscaping and manipulating their world in ways that we are only now beginning to understand. Challenging and surprising, this a transformative new look at a rich and fascinating world we only thought we knew.
1493: Uncovering the New World Columbus Created by Charles C. Mann
A deeply engaging new history of how European settlements in the post-Colombian Americas shaped the world, from the bestselling author of 1491.
Presenting the latest research by biologists, anthropologists, archaeologists, and historians, Mann shows how the post-Columbian network of ecological and economic exchange fostered the rise of Europe, devastated imperial China, convulsed Africa, and for two centuries made Mexico City—where Asia, Europe, and the new frontier of the Americas dynamically interacted—the center of the world. In this history, Mann uncovers the germ of today's fiercest political disputes, from immigration to trade policy to culture wars. In 1493, Mann has again given readers an eye-opening scientific interpretation of our past, unequaled in its authority and fascination.
Bury My Heart at Wounded Knee: An Indian History of the American West by Dee Brown
Immediately recognized as a revelatory and enormously controversial book since its first publication in 1971, Bury My Heart at Wounded Knee is universally recognized as one of those rare books that forever changes the way its subject is perceived. Now repackaged with a new introduction from bestselling author Hampton Sides to coincide with a major HBO dramatic film of the book, Bury My Heart at Wounded Knee.

Bury My Heart at Wounded Knee is Dee Brown's classic, eloquent, meticulously documented account of the systematic destruction of the American Indian during the second half of the nineteenth century. A national bestseller in hardcover for more than a year after its initial publication, it has sold over four million copies in multiple editions and has been translated into seventeen languages.
Using council records, autobiographies, and firsthand descriptions, Brown allows great chiefs and warriors of the Dakota, Ute, Sioux, Cheyenne, and other tribes to tell us in their own words of the series of battles, massacres, and broken treaties that finally left them and their people demoralized and decimated. A unique and disturbing narrative told with force and clarity, Bury My Heart at Wounded Knee changed forever our vision of how the West was won, and lost. It tells a story that should not be forgotten, and so must be retold from time to time.
What's your favorite book on the list?
What prejudice do you still see towards Indigenous peoples?
Linking up:

You might also like: