Elizabeth and I reviewed the 6th grade Premium Edition A+ Interactive MATH CD by A+ TutorSoft.
I thought it was perfect timing because she's transitioning out of 6th grade and we're still a little unsure which direction we want to go for high school math.
She's used Singapore for 1st through 6th. We had a few months' stint of Saxon in 4th grade and that was disastrous, to be nice. She needs a little extra review and we want to make sure there aren't any "holes" in her math learning.
Elizabeth watched the multimedia teaching lessons on the CD and went through the printable worksheets.
She excelled on lessons 1.4.1, 1.4.2, and 1.4.3, which are "Percents, fractions, and decimals in everday life."
The pre-algebra and geometry sections are excellent.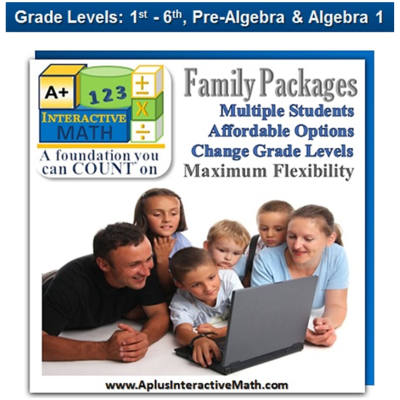 I plan to have Elizabeth complete modules 6-11, at the very least, before we move on to a new program next year.
I love the feature of Interactive Q&A.
It's a review after each lesson. If she gets an answer wrong, it reteaches the concept. My daughter really enjoyed this feature. She giggled at the "Good Job!" thumbs up image after each correct answer.
At the top, the program offers multimedia lessons, a textbook view (not printable), exams, and worksheets for students. For teachers, it also has a lesson plan feature, exam and worksheet solution guides, a help menu, and progress tracking. The progress tracking is a manual entry, so teachers input the grades. You can print out certificates of accomplishment too.
Customer service is superb.
The owner,Vinod, spoke with me via email and phone several times to ensure that I was able to activate the program and understood all its features. Love that personal touch!
You might also like: