With four growing kids, I have to be careful with clothing and plan buys to help save money.
I've been pretty successful these last few years with scoring on great quality kids clothes for four children at amazing prices and here I share my frugal tips with you!
5 Tips for Buying Kids Clothes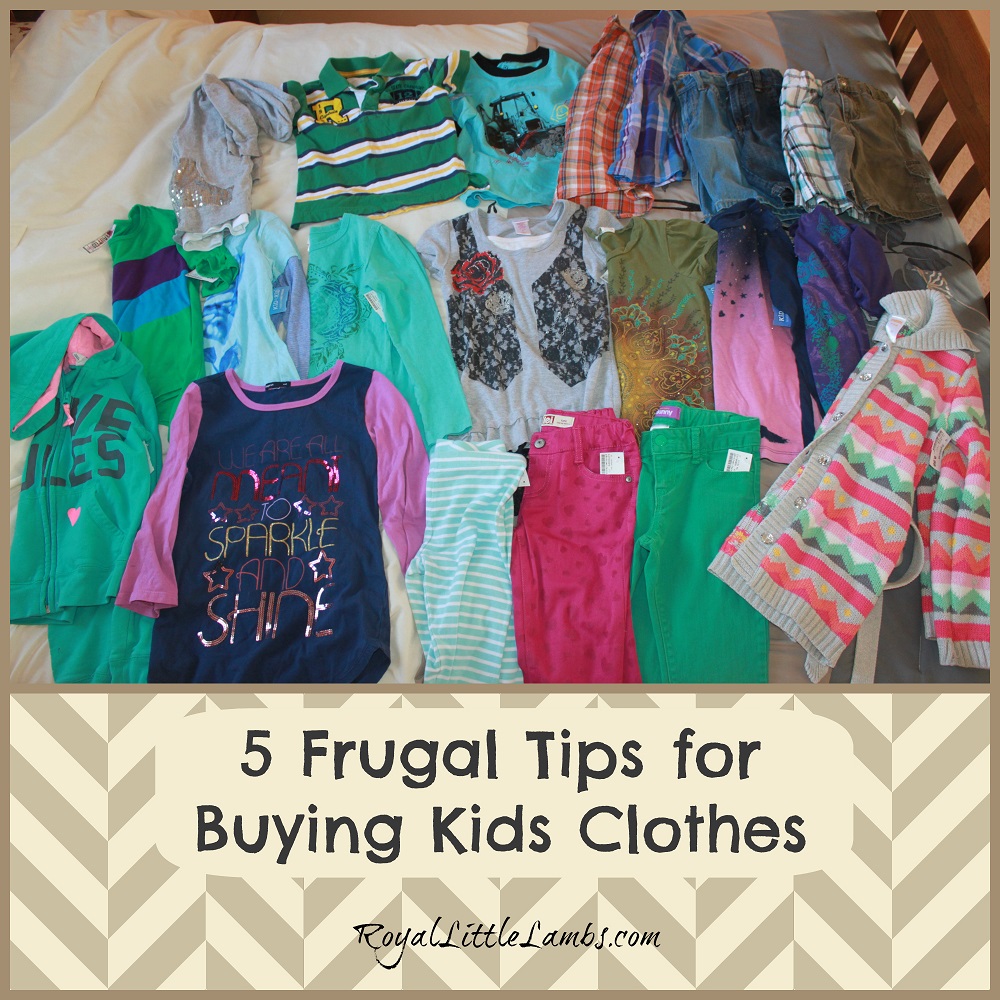 1. Buy out of season
You know kids need snow gear, so get it on clearance or at thrift and consignment shops super cheap during summer. When everyone is thinking of swimming, you're being wise and planning ahead.
Buy sundresses and sandals and beach or pool items at the end of the season (when it's too hot to even think) and coats are showing up in stores (seriously?!). Just be proactive and get a size up.
Stores like Old Navy have great jeans sales periodically. Stock up! My kids seem to always have holey knees! During back-to-school season, stock up on classics even if your kids don't wear uniforms. Khaki pants are always a great item to have on hand for church or events that may pop up.
2. Consignment Shops
Our local consignment shop takes only seasonal clothing, so when I switch out clothes in spring and fall, I store the items in the basement to take to the shop to get credit the next season.
There are also HUGE consignment sales at our local expo center in spring and fall. A great place to sell if you're very organized and so inclined – and an even greater place to stock up on homeschool supplies, toys, baby gear, sports equipment, and clothes.
I recently took three baskets of clothes and toys to our local kids consignment shop and got a credit. I didn't realize I had never used my credit from last season. When I showed up to purchase some needed items against my $38 credit, I was told I had earned $138. So unexpected! I stocked up!
3. Thrift Stores
I can spot a Gymboree or Land's End dress several aisles over. I just know the quality and pattern of their fabrics. I like certain brands because they last through several kids and don't wear out or break down.
Know what you want and need and keep lists of sizes and preferences. Tori likes blue and not pink. Kate loves green and Bohemian clothes. Liz likes classic looks and black and white patterns. Alex loves blue and orange and no buttons.
4. Hand-Me-Down Club with friends or relatives
If you and your friends can work out a hand-me-down system to share clothes and costs and do seasonal swaps, everybody wins! Many of the moms at our church do these swaps informally. And we have a huge church rummage sale. Those who help sort and work get first dibs!
My younger girls love to "shop" from the basement bin of big sister's old clothes and all my kids love getting boxes from their cousins.
I'm loving the Buy Nothing groups on social media!
5. Yard Sales
Yard sales are my least favorite way to find frugal clothes. The clothes are often poor quality and worse condition and it takes so much time to sort through bins, baskets, or racks.
We have found some great items like roller blades and jackets and furniture at yard sales.
We did have great success with selling baby items and kids clothing last year at our yard sale. It's just hit or miss. I don't waste much time looking for everyday clothing at yard sales.
I do like online yard sales and thrift shops. We had great success at KSL.com searching for and finding items we needed or wanted. thredUP and Poshmark are great ways to trade and buy used clothing!
I envy those people who have a monthly clothing budget set aside for those emergencies. I've just never seemed to manage it. We often use our tax return and Christmas and birthday money to stock up a few times a year. I've never had success with budgeting well for clothing since the kids always seem to need something special at random times.
They outgrow favorite items and I have to sneak them out in the dead of night, feeling pangs of ultimate betrayal. Jeans mystically develop humongous knee holes. Socks lose their sole mates. Shirtsleeves mysteriously grow too short or unraveled. And when they occasionally need a specialty clothing item for some event, I have to scramble to find a deal in the right size, color, and style.
Do you have any frugal tips I've missed?
You might also like: