We kinda took a week off last week for the linkup. It wasn't a great week. This week's topic is "What could you invent to make life better?"
The co-hosts for this middle and high school linkup are:
Amy at Homeschool Encouragement
Clara at Clara's Blue Moon (teen co-host)
DaLynn at Holy Splendor
Jennifer at Royal Little Lambs
Laura at Day by Day in Our World
Trish at Live and Learn Farm
Wendy at Homeschooling Blessings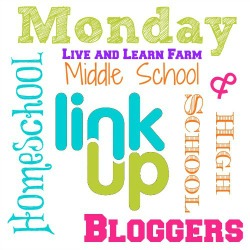 To make the world a better place, I could be a missionary to different countries. It would be easier for me because I am really good at languages. There are probably millions of people needing to hear the word of God. I could start by memorizing important Gospel passages and improving my language skills. It would be great to translate and pray with other people groups in their heart language. I want to help End Bible Poverty. We love supporting The Seed Company.
My dream job is working as a linguist or sign language interpreter. I could do so many things around the world by learning different languages and using my talents. Right now, I am learning Latin, Mandarin Chinese, Arabic, and my favorite – German, along with ASL. We're reviewing Mango Homeschool and it's fun!
I could also help improve the world using language by being an interpreter and translating peace treaties. I could work for the FBI or UN or NATO and help countries understand each other's needs and wants peacefully.
I love sign language and learning ASL. I could translate for church services and help them to understand the Word of God.
Link up posts here:

You might also like...