Art is very important in our home and homeschool.
My parents discounted and disapproved of my love of art and I was only allowed to take one semester in 10th grade. I still have that portfolio.
I loved and still love viewing art, but I believed that creating was a waste of time because my parents drilled that into me for years. I'm learning to overcome that now.
I want my kids to appreciate and understand art, and love creating.
We often hike in nature to celebrate the artistic beauty of creation. We learn art history, visit museums, read books about art and creativity, take classes, and create some of our own projects!
Art History
We learn about the major art themes and techniques along with our regular history studies. It really helps tie everything together for us.
My eldest is considering majoring in art history.
Art Appreciation
Like literature, I want my kids exposed to art and learn to appreciate it. Some we love and others…we just don't.
We celebrate the human body and achievements of great artists.
We go to lots of museums. My kids beg to go to museums. Almost all our European travels revolved around viewing art and churches.
25+ favorite books about art and creativity:
We buy books at the museums we visit so we can remember our favorite pieces.
I collect art history textbooks (there's a free bin at our library).
We love living books about art and artists and often check them out at our library.
Picture books often have stunning illustrations.
Notebooking and Unit Studies
Of course we love notebooking and this is a great way to synthesize our knowledge about art and artists.
Projects and Crafts
We've done some arts and crafts to go along with our science and history studies. We also create just for fun sometimes.
We're all about the process.
As soon as kids are past preschool age, I recommend purchasing the best supplies you can afford so kids get used to using real art tools.
Classes
Sometimes, outsourcing education is the way to go. Yes, it's expensive and time consuming, but my knowledge and abilities are limited. Also, I don't have to gather supplies or clean anything up.
I taught stART (Story+Art) one year at a homeschool co-op in Utah.
My eldest took some amazing art classes at ARTWorks in San Antonio, Texas, for our first two years homeschooling.
We've been taking classes at SPARK Art Studio in Kettering, Ohio, the last couple years.
Local YMCA and community centers often offer art classes.
My kids like the Notability app. They love playing with the Home Design app.
Computer programs: Inkscape, Tux Paint…all the Adobe creation apps and programs (I haven't paid for yet).
Drawing and Painting lessons from Easy Peasy Homeschool.
This art curricula list from The Homeschool Mom.
Drawspace – 15% of the content on Drawspace.com is free.
Atelier art lessons online. Arts Attack Publications has stood for superior quality in art instruction for decades now and is exclusively devoted to developing and publishing high quality, easy-to-teach, video-based visual art lessons for children.
Homeschool art from Schoolhouse Teachers.
Sparketh offers different levels of online art classes.
Art curricula reviews from Cathy Duffy.
You Are An Artist online lessons: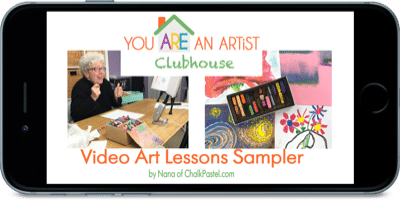 How do you study art in your home or homeschool?
You might also like: